The Write Place offers opportunities, support, and events designed for both beginner and experienced creative writers. Are you polishing a manuscript for a contest or publication? Do you want to know how to get started on a story, poem, novel, or play? Do you want feedback on those poems or that memoir you have been hiding away? Contact our Creative Writing Consultant, Dr. Tom Cull (tcull3@uwo.ca) to discuss your work, or make an appointment with him, or with our Creative Writing Assistant, through kings.mywconline.com.
The best writing developed in our workshops is gathered every year into Imprints, The Write Place's creative writing journal edited by Dr. Dorothy Nielsen. Volume 2 is now out. Volume 3 will be edited by Dr. Tom Cull.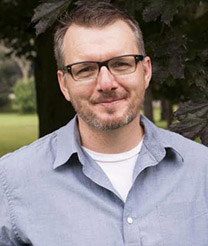 Tom Cull grew up in Huron County (treaty 29 territory) and now resides in London, Ontario. Tom teaches creative writing at King's and Western and was London's Poet Laureate from 2016-2018. His chapbook, What the Badger Said was published in 2013 by Baseline Press, and his first full-length collection of poems, Bad Animals, was published by Insomniac Press in 2018. Tom's work has appeared in several journals and anthologies. Since 2012, Tom has been the director of Antler River Rally, a grassroots environmental group that he co-founded with his partner Miriam Love, and their son, Emmett.
All are welcome to the Creative Writing workshops and Visiting Author readings. Follow us on Facebook and on Instagram to see what's happening, so you don't miss out on our amazing events!