The Darryl J. King Student Life Centre
King's New Living Room
---
King's Student Life Centre provides our community with a facility that is not only beautiful but functional. With everything from classrooms to a 490-seat theatre and a place to rest near a fireplace, the King Centre is a gathering place for our community.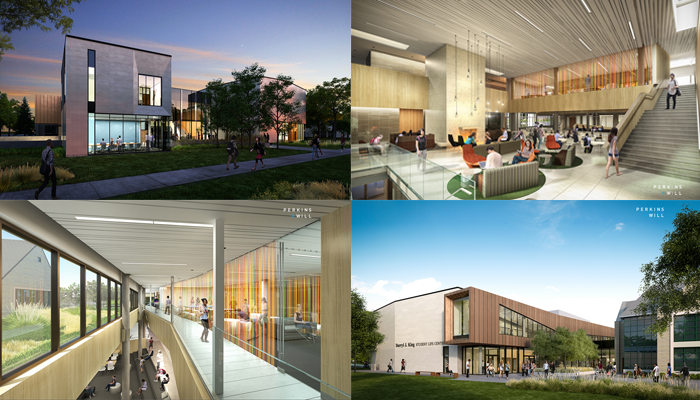 The King Centre is named in recognition of a generous donation from Darryl J. King '97. Darryl credits his experience at King's for not only his professional success, but for developing his philanthropic outlook and belief in giving back to the community. Darryl has an inspiring story of how King's is unique and looks beyond the grades to consider the person and circumstance.
Designed by Perkins+Will and Cornerstone Architecture, and built by K & L Construction, The King Centre is a 3,539 m2, two-storey (plus full basement) multi-purpose student centre. The building incorporates a variety of spaces created to serve students. These spaces include meeting rooms, a café, learning lounge areas, an auditorium, fitness centre, games room, and classrooms. Total cost of the project was $14.7 million dollars.
The Darryl J. King Student Life Centre is certified LEED Silver. LEED, Leadership in Energy & Environmental Design, is an internationally recognized green building certification rating system. The building earned a Silver rating because of its many sustainable features such as a green roof rainwater cistern, and innovative green cleaning program. The building efficiently delivers and conserves water and energy, reduces urban head-island effect, has access to sustainable transportation, incorporates campus-wide recycling and streamlined cleaning, and uses low-emitting products and materials. Full details can be found at the LEED kiosk located next to the Joanne and Peter Kenny Theatre.
The Student Life Centre was also the recipient of the Award of Excellence from the London Urban Design Awards, and the Award of Merit from the Association of Registered Interior Designers of Ontario (ARIDO) in 2015. The primary criteria for the London Urban Design Award are positive contribution to the public realm/quality of place, architectural excellence and a demonstration of fulfilling a clearly articulated urban design intent. The ARIDO Awards recognize excellence, innovation, and originality in interior design.