Christ the King Chapel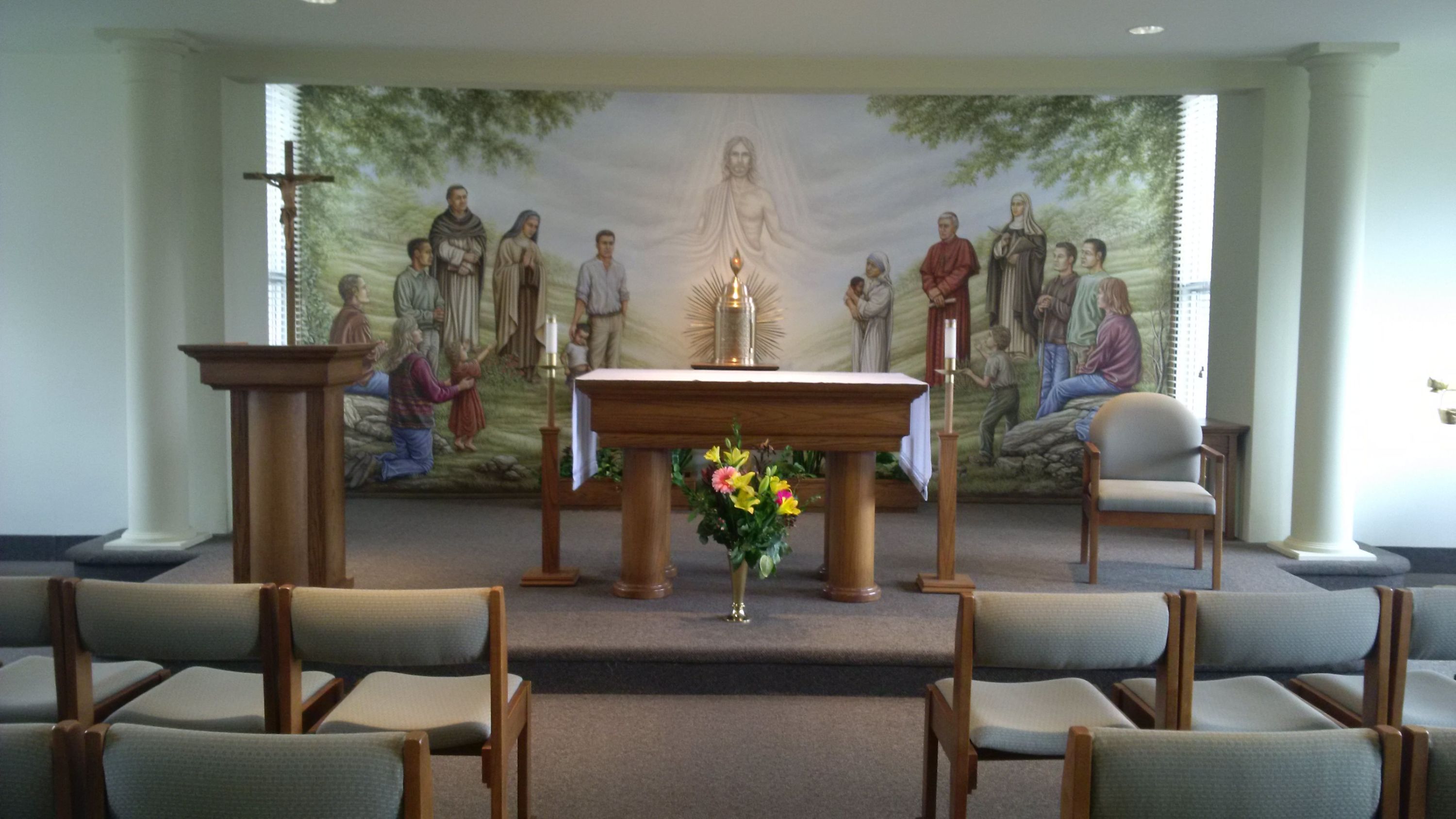 Christ the King Chapel was part of the original design of King's when it opened in 1954 and is located on the West side, first floor of the Wemple building. The chapel has been redesigned on numerous occasions and was most recently consecrated by His Excellency, Ronald P. Fabbro, CSB, Bishop of London, on November 4, 2004.
The mural was designed and painted by artist Achim Klaas of Cambridge, Ontario and was also installed in August 2004. Surrounding the central figure of Christ from left to right is Saint Thomas Aquinas (Patron of Catholic Colleges and Universities, 1225-1275), Saint Therese of Lisieux (Doctor, 1873-1897), Blessed Pier Giorgio Frassati (Patron of Youth, 1901-1925), Saint Teresa of Calcutta (Witness of Charity, 1910-1997), Saint John Henry Cardinal Newman (Patron of Catholic Campus Ministries, 1801-1890) and Saint Catherine of Siena (Doctor, 1347-1380). The image also includes many young men and women representing all those who gather in this place.
The chapel is used for Christian and Catholic liturgies but remains open 24 hours a day, 7 days a week for quiet reflective prayer.
Abrahamic Courtyard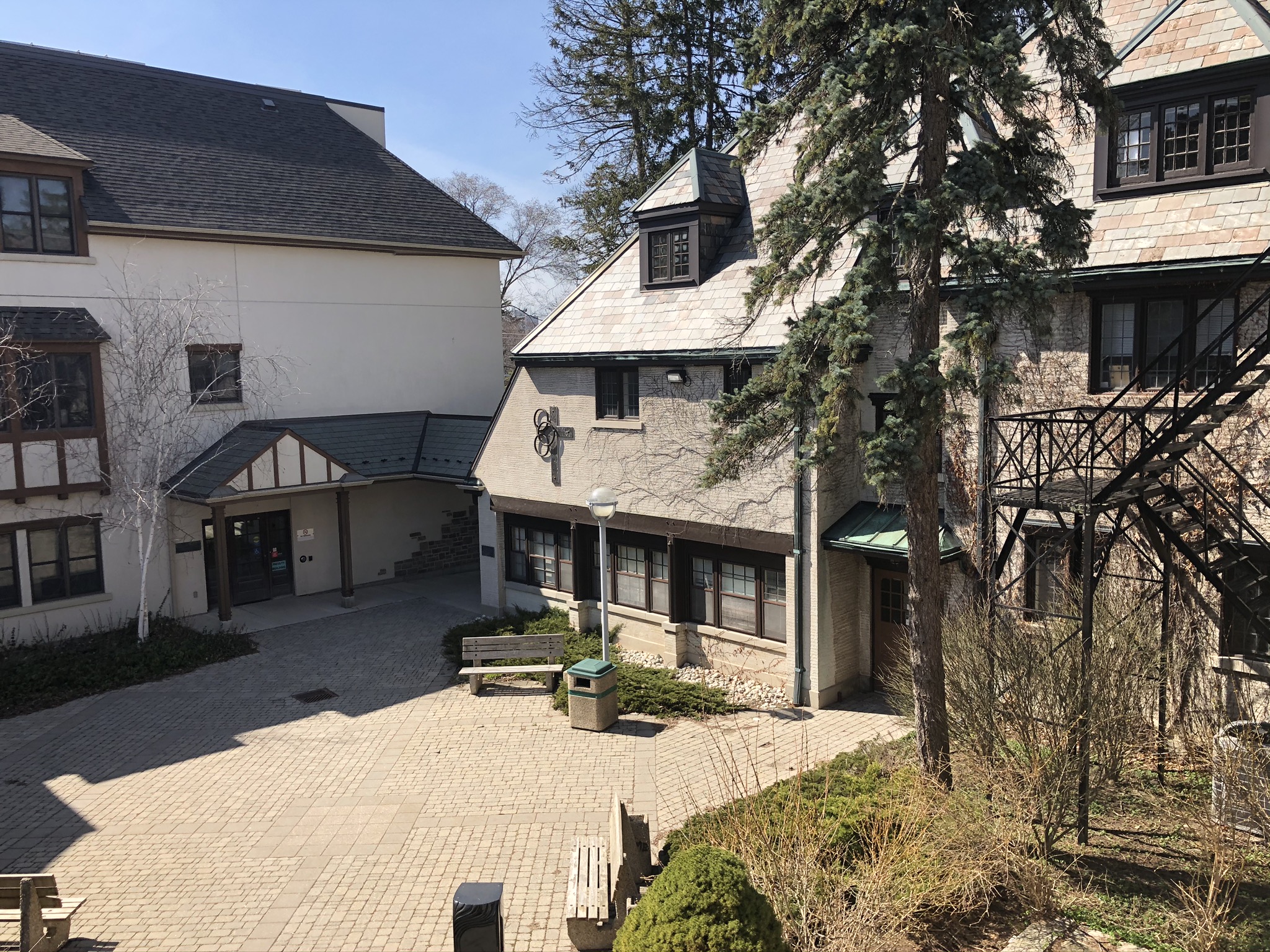 Located in the quad between the Dante Lenardon Building, the South Annex and the Faculty Building, the Abrahamic gardens house 3 pieces of sacred art, and a Peace Pole created by the Interfaith Peace Camp for children, coordinated through the Office of Campus Ministry. It is a calming outdoor space, boasting many benches to rest on while quieting one's heart immersed in nature.
Indigenous Reflection Circle
The Reflection Circle, created in 2021, is an inclusive outdoor space for private reflection or group gatherings. Accessible to people of all faiths and backgrounds, it also supports the needs of the Indigenous community at King's by providing an outdoor location for sacred gatherings.
Muslim Prayer Room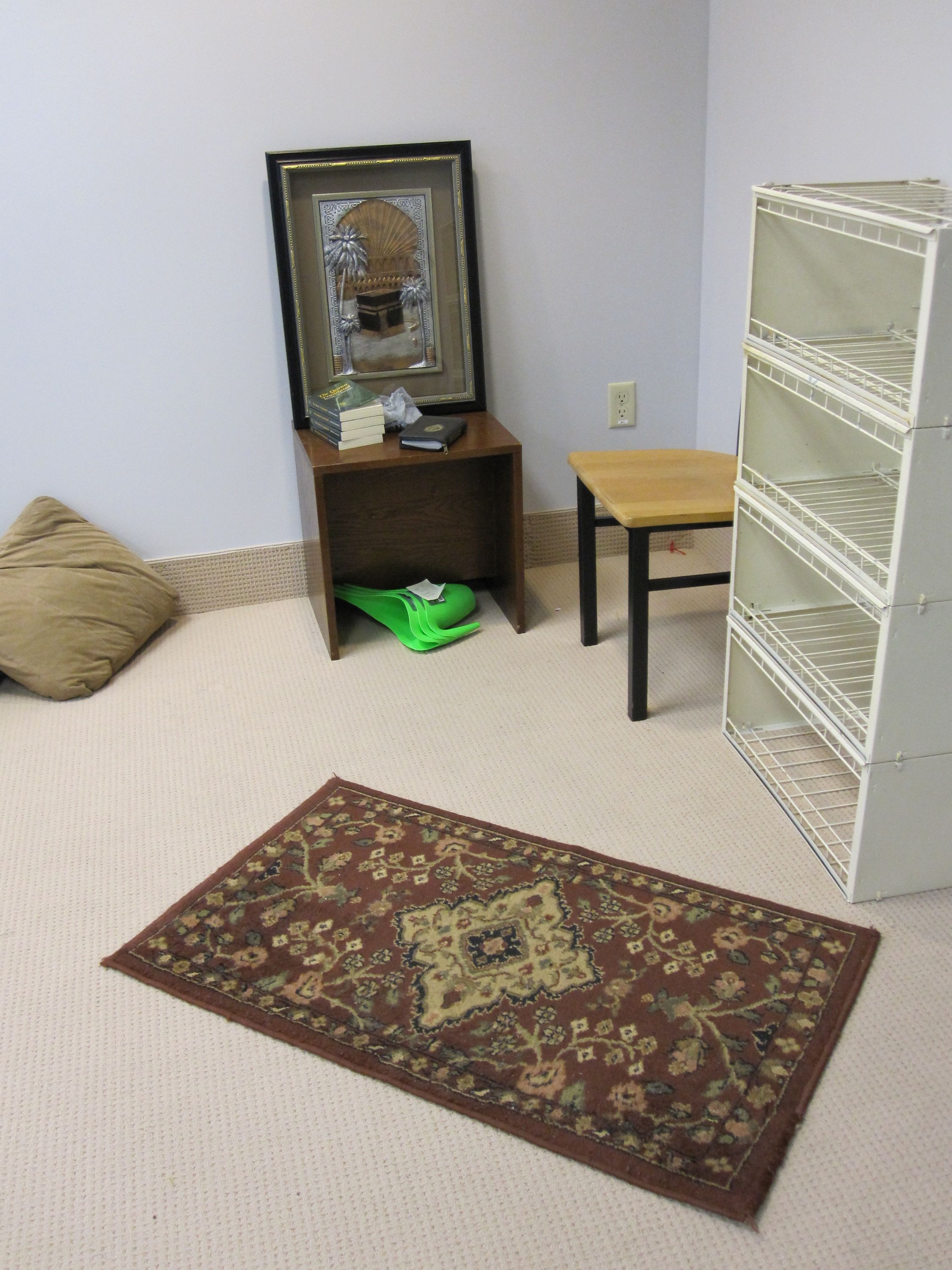 The Muslim prayer room is located on the lower level of the Wemple building. It is open for prayer 24 hours a day, 7 days a week for both male and females, in room W057 and W059 respectively. Washing facilities are located directly across the hall.
Sacred Artwork
Art can be found around campus including in the Abrahamic Courtyard, Christ the King Chapel and many more. Information about these pieces can be found on the Campus Art webpage.