Congratulations 2018 Alumni Award Recipients
Gail Lalonde '01 is the 2018 Alumni Award of Distinction Winner. Brian Kennedy '07 is the 2018 Young Alumni Award Winner. These awards recognize the achievements, dedication and community service of deserving alumni.
Alumni Award of Distinction
Gail Lalonde '01 – 2018 Alumni Award of Distinction Winner
Coordinator of Clinical Services, London District Catholic School Board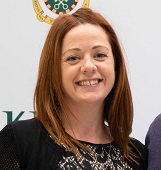 After completing a Bachelor of Social Work in 2001 and Master of Social Work in 2008, Gail Lalonde began her career as a social worker with a focus on mental health education, well-being and suicide prevention. She has spent many years in this capacity working for the Thames Valley District School Board, recently moving to a position at the London District Catholic School Board.
Gail has devoted her career to developing tools that help students, parents and educators better understand and foster mental wellness. This has led her to work on developing strategies, policies and tools within the school board, as well as the provincial, national and international levels.
Throughout her career, Gail has maintained close ties with King's. She regularly participates as a guest lecturer, committee volunteer, mentor to students, and field instructor to social work practicum placement students.
"It is hard for me to put into words all the things I love about King's and why it is so important to me. My experience at King's, and in particular in the School of Social Work, has defined the work that I do, not only in my job, but in the community in a broader sense. King's exemplifies a caring community, and being a student at King's is so much more than attending classes. The faculty and staff genuinely care for their students and take an active role in guiding their development."
---
Young Alumni Award
Brian Kennedy '07 – 2018 Young Alumni Award Winner
English Teacher and Co-Head of Athletics, St. Mary Catholic Academy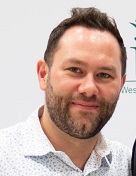 Brian Kennedy '07, has always wished to teach at a Catholic school, partly because he is drawn to the inherent Catholic values, including service to others. Brian lives these values both in and outside the classroom, as a regular leader of extra-curricular activities. Brian has coached nearly every sport offered at the schools he has taught at, as well as starting a student magazine, supervising leadership activities, trips, and fundraisers.
Brian is also active in service outside of his professional life. Since his time at King's, Brian has organized an annual charity concert in celebration of his birthday. What began as a small gathering of musically minded friends has evolved to a full concert, featuring 30 performers and an audience of over 300. Funds raised over the years have supported various charities for youth.
In 2016, Brian decided to share his personal story of childhood sexual abuse through an online news outlet. In sharing his story, Brian has connected with, offered support to, and shared in healing with a great number of other survivors. He has offered inspiration and comfort to countless others who remain quiet about their own traumas.
In the years since graduating, King's remains an important aspect of Brian's life, particularly in terms of the life-long friendships he formed. When asked what advice Brian would give to himself, as a fun-loving, first year King's student, his answer was simple: be vulnerable.
"I think being vulnerable helps others to be vulnerable, and that creates really great conversation, and so much growth."
King's will celebrate the accomplishments of Gail and Brian at the Alumni Brunch, taking place on Saturday, October 20, 2018 at Homecoming. Tickets may be purchased for $20 at www.kings.uwo.ca/homecoming or by contacting alumni@kings.uwo.ca.
---
There are many talented King's alumni who deserve to be recognized for their outstanding achievements. If you know a King's graduate whose contributions enhance his or her community and who is an inspiration to those who know them, please take a few minutes to submit a nomination to alumni@kings.uwo.ca.