Award of Distinction Recipient
Maureen Spencer Golovchenko '77
2020 Alumni Award of Distinction Recipient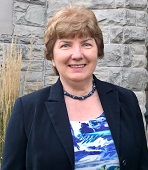 One need not look far to see the impact Maureen Spencer Golovchenko '77 has had on community life in London. Her career has covered a spectrum of private and public sector roles, from insurance, to radio journalism, to roles in the charitable and non-profit sectors, higher education, and politics. Referring to herself as a "poster child for a liberal arts education," Maureen has excelled in each area, bringing innovation and growth to the organizations she has worked with.
As a local Londoner, King's was a natural fit for Maureen. "After graduating from Catholic Central High School, coming to King's was an easy choice. It felt warm and welcoming – with friendly people, small classrooms, a sense of spirituality, and lots of green space." Maureen completed her degree in Sociology, but like many King's graduates, she enjoyed a broad range of classes in her studies. "I have fond memories of so many King's faculty, but particular favourites include Nick Skinner (Psychology), Dante Lenardon (Modern Languages), John Snyder (Religious Studies), and Rose Marie Jaco (Social Work)." Following her studies at King's, Maureen earned a diploma in Broadcast Journalism from Fanshawe College, and a professional designation as an Accredited Business Communicator.
Perhaps the most apt title for Maureen was the one she held while working with Pillar Nonprofit Network as their first Community Collaboration Manager. "Collaboration is definitely a recurring and rewarding aspect of my work!" While in this role, Maureen was tasked with bringing private, public, and non-profit industries together to find creative solutions for shared problems, but in each role over her career, Maureen has been known as a community builder and a collaborative team member. "I was blessed with opportunities to work with different workplace teams – each trying to change the world in some way. Being able to bring people together through a series of cross-sector, community-building projects was a dream job for sure."
Maureen is perhaps best known for her role at City Hall, a position she held for 10 years as Executive Assistant to London Mayor Anne Marie DeCicco-Best. In this role, she and the Mayor worked together to make London a more creative, collaborative, and caring city. They brought many new initiatives to the city, including the John Labatt Centre, the downtown branch of the London Public Library, and the strategy to renew Storybook Gardens. During her tenure, London also became the first city in Canada to join the World Health Organization's global network of Age Friendly Cities, and the Age Friendly London (AFL) Network was established. Maureen continued to co-chair the AFL Civic Participation Working Group following her time at City Hall.
Maureen's contributions to the field of communications are immeasurable. She has been an active member of the International Association of Business Communicator's locally and at the national level since early in her career. At the 40th Anniversary Gala of the London Chapter, Maureen was recognized for her years of volunteerism and mentorship in the field. Maureen recently completed a three-year term as Writer-in-Residence for the Corporate Communications team at Fanshawe College, serving as a resource for the next generation of communications professionals.
Ever an active volunteer, Maureen has been a familiar face at King's in the years since her graduation. Serving eight years on the Alumni Board of Directors, including as President from 2002-2004, Maureen was part of the group that created the Alumni Award of Distinction to recognize the community contributions of King's graduates. It is fitting that Maureen is herself the recipient of the very award she helped to establish on its 20th anniversary.
Congratulations, Maureen Spencer Golovchenko '77, recipient of the 2020 Alumni Award of Distinction.