MaX UC Frequently Asked Questions
Contacts

On initial login, the screen will display contacts saved in the database for the logged in account. To call a contact:
Scroll through the alphabetical list displayed for the desired contact.

To call the contact, double click the contact or the phone icon next to the contact name when moused over.
Adding Contacts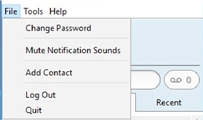 Click 'File' in the top left corner.
Click 'Add Contact' from the list provided.
Enter in pertinent information for the contact. One mode of contact is required (Email/Phone).
Click Save.
Editing Contact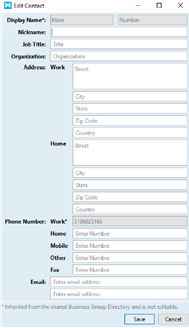 Right click the desired contact in the Contact list.
Click 'Edit Contact'.
Make desired changes to the contact.
Click 'Save'.
Status Changes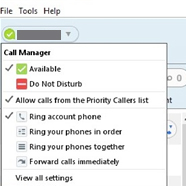 Below the application menu along the top, there is a Call Manager button. When in "available status" this will be a green bubble, and when not available it will be red.
Click on the button to change from 'Available' to 'Do Not Disturb'.
The user may also enable the ability for priority callers to still ring through in Do Not Disturb mode.
Call Forwarding
Call Forwarding can also be edited through the status button.
Select 'Forward calls immediately' from the drop down.
Enter the desired forwarding destination number (10 Digits, will require a 9 if dialout requirement is there).
Ring Options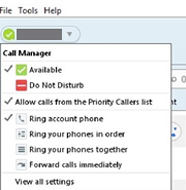 Users can change the ring options for where calls will ring when the Flexible Extension is in use. Options include:
Ring account phone - Will ring your phone number on any device currently logged in (Desk Phone, Cell Phone, Tablet, PC, etc.).
Ring your phones in order - Will ring your phone number and any other telephone numbers in a specific order (great if other people are covering your calls when you're not available).
Ring your phones together - Will ring your phone number and any other telephone numbers simultaneously (great if you're part of a group of people that take calls).
Password Changes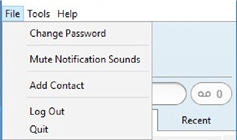 To change your password:
Click File.
Select 'Change Password'.
Enter old password.
Enter new password.
Enter new password again.
Keep in mind that this will change the login password for the entire account. You will need to login to any other devices using this new password.