Classroom Technology and Audio-Visual Equipment
Information Technology Services at King's University College is responsible for providing and maintaining instructional media technology systems and audio/visual services. Equipment and service are provided at no charge for Registrar time-tabled courses. There may be a charge for student groups, conferences, and non-academic functions.
All classrooms and most meeting spaces at King's University College are equipped with a multimedia projector, a computer, a sound system and a VCR/DVD combo unit. Larger rooms also contain a lapel microphone and PA system. There are no keys or passwords required and the equipment is quite user-friendly.
Booking equipment and scheduling technical support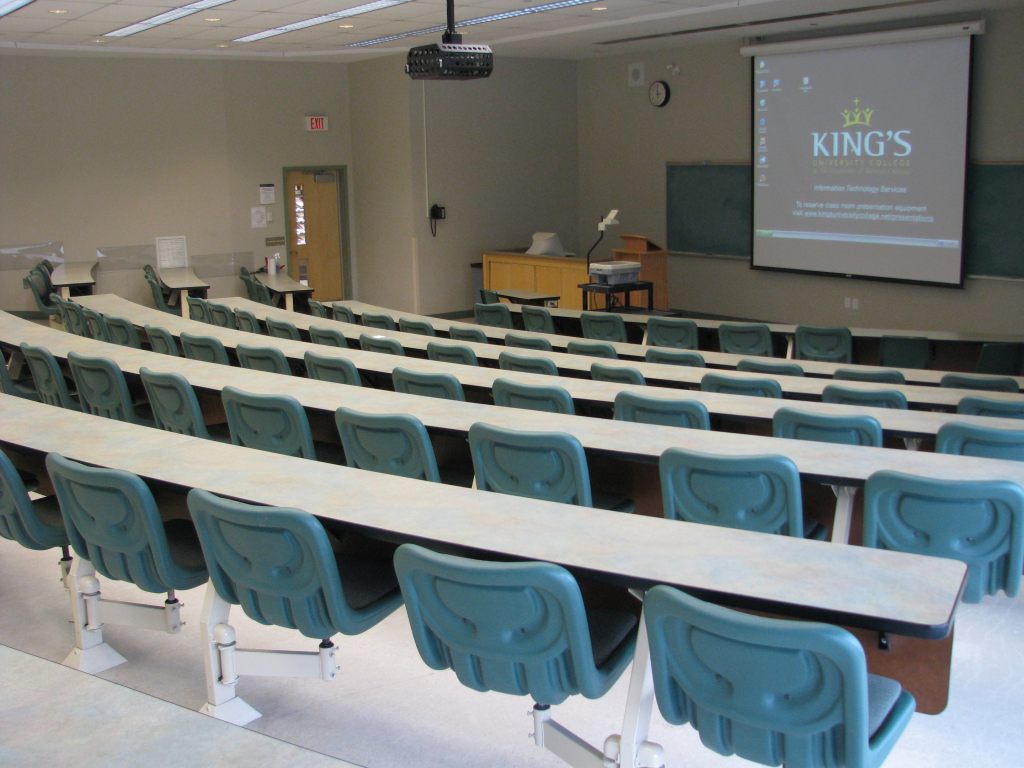 If you would like to have in-class assistance with A/V set-up, it can be scheduled by completing the IMS Request form at least two business days before your event.
Completing the form ensures that a member of the ITS team will be at your classroom a few minutes before the time you specify on the form to assist you with equipment set-up and answer any questions you may have. This allows you to focus on your presentation rather than dealing with equipment that you may be unfamiliar with.
Using your own PC or Mac laptop or other device
You are able to use your own laptop or other device to make presentations at King's in conjunction with the school's multimedia projectors, however you may require an adapter depending on the device being used. Laptops and tablets made by Apple, for example, almost always require a specific adapter in order to connect to the in-class VGA or HDMI cable. In most cases, King's ITS can provide the required adapter if you do not own one. Complete the IMS Request form or contact av@kings.uwo.ca if you have questions about this.
All projectors at King's can be connected to via the in-class VGA or HDMI cable. You will also be able to easily connect your laptop's audio to the in-class audio system using the standard 3.5mm audio cable provided in the classroom. HDMI cables include audio without the use of an additional connection.
When using your own device, you will be able to access the wireless Internet within the classroom provided you have a valid Western username and password.
Technical Support
Immediate on-site technical support for in-class audio/visual equipment is available during regular class hours: Monday through Thursday, 8:00 am to 10:00 pm and Friday, 8:00 am to 5:00 pm. Tech support can be reached by pressing '0' from any in-class phone (or by calling the King's Reception Desk at 519-433-3491) and asking for ITS staff to be dispatched to the classroom.
To report problems, obtain additional information or to receive non-immediate assistance please contact Corey Cooke at 519-433-3491, extension 4387 or by e-mail at av@kings.uwo.ca.
Supplemental A/V technology available at King's
ITS can deliver, setup and remove additional equipment that may be required for classroom use.
Supplementary equipment available:

Slide Projector

Projection Screen

Video Camera

Flipchart

Overhead Projector

Audio Cassette Player

Compact Disc Player

Laserdisc Player

16mm Film Projector

Opaque Projector

Film Strip Projector

PA System
If early set-up is desired, users must first ensure that the room is available at the required time by calling the Registrar's Office at (519) 433-3491, extension 4305.
Requests for external events should be made through King's University College Residence & Conference Services at 519-433-3491, extension 4700. The Equipment Rental and Services fee schedule may apply.
Saving presentation files
The easiest method of transporting a presentation file to a classroom at King's is to e-mail the file to a web-based e-mail account (for example, Hotmail, Gmail or Western Webmail) or use a USB flash device. This allows the user to access the file via the in-class computer. Alternatively, users can also bring in their own laptop and connect it to the in-class projector.
Using audio/video files within PowerPoint
Users who intend to use audio or video files within a PowerPoint presentation and are planning on using the in-class computer at King's, should be aware that simply saving the file will not include the audio and video files. The procedure for ensuring audio and video files travel with the PowerPoint file differs depending on the version of PowerPoint being used. It is strongly recommended that users research the proper method for saving PowerPoint files with audio and/or video to prevent problems upon arrival within the classroom. It is also recommended that audio and video files are saved separately along with the PowerPoint file so that the media can be re-linked in PowerPoint within the classroom, if necessary.
Alternatively, users may include links to YouTube videos or other on-line content without concern.
Additional audio/visual services offered by King's ITS
A camera operator and camera can be supplied to video record conferences, lectures and special events. Audio recordings can also be produced.
King's ITS can transfer various media formats:
PAL to NTSC video conversion
DVD or digital file creation from VHS, Beta, Umatic or other analog video format
CD or digital file creation from audio cassette or other analog format
King's ITS can assist with video and audio creation, editing and duplicating.
Please note: Copyrighted materials cannot be copied, edited or transferred without the written permission of the copyright owner.
Contact
If you have any questions, or require further assistance, please contact av@kings.uwo.ca or call 433-3491, extension 4387.