Accessing Email
Western student mailboxes can be accessed either via the web site - https://myoffice.uwo.ca/ - or through an email client. Should you encounter any issues with your @uwo.ca email accounts contact support@kings.uwo.ca
Western Email Support
Information on the Western email system and help documentation, including how to configure desktop clients such as Outlook, can be found here.
Accessing Email
Western mailboxes can be accessed either via the web site - https://iwc.uwo.ca/ - or through an email client. Should you encounter any issues with your @uwo.ca email accounts contact support@kings.uwo.ca
Western Email Support
Information on the Western email system and help documentation, including how to configure desktop clients such as Outlook, can be found here.
King's University College Microsoft Exchange 2010 Communication Service
Overview
King's Information Technology Services has implemented an email and scheduling system based on Microsoft Exchange Server 2010. The new system coexists with the existing UWO mail system and offers many enhanced features:
Group scheduling – see the free/busy times for meeting invitees and resources
Contact synchronization – view your contact list from all locations
Global contact lists – search King's and UWO directories from within Outlook
Remote access to all email, calendar, and contacts – Outlook Web App provides full access to the Exchange environment from any web browser
4Gb of storage
Mailboxes are synchronized in all locations, including sent mail and message status
Wirelessly connected and synchronized to BlackBerry mobile devices (See King's University College mobile device policy) or devices that support Activesync (iOS, Android, etc.)
Ability to use UWO email addresses or to provide a unique King's identity
Mail sent to the UWO mail server is forwarded to the King's Exchange server creating one central location for data. All methods of accessing, both local and remote, point to the same location so mail and calendar data is always synchronized.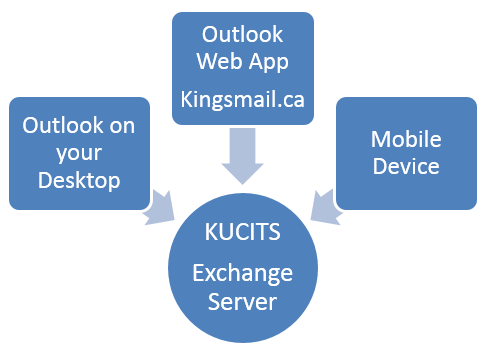 @kings.uwo.ca
The new email service provides the ability for users to utilize a new @kings.uwo.ca email address. Unlike your @uwo.ca email address this new address uses the firstname.surname@kings.uwo.ca format (christopher.pike@kings.uwo.ca). This email address is currently hidden and your reply-to address will remain @uwo.ca – looks for changes in the future!
Passwords
Moving forward more and more integration will be implemented to allow one federated username and password for all the various desktop and web applications used at King's. This is an ongoing process and updates will be sent out as necessary to let you know what changes are being made. For the interim the password used will initially be the same as that of your http://mykings.ca account.
Accessing your Email and Calendar
When using your regular College workstation, email and calendaring is accessed through the Outlook mail client. If you are off-campus your email is just a few clicks away by using the Outlook Web App available at http://www.kingsmail.ca. This online interface emulates your Outlook layout and includes all the messages found in Outlook including your inbox, outbox, and even your drafts. It's now easier than ever to maintain a consistent messaging environment. See this website for more features https://support.rackspace.com/how-to/outlook-web-access-owa-for-exchange/ (please note that some features such as IM have not been added to the King's email interface).
Calendar Management
Want to schedule a meeting but don't know when people are available? With the scheduling assistant built right into Outlook and the Outlook Web App you can immediately find out when folks are free or busy (provided that they are a part of the Exchange environment).
Blackberry Integration
BlackBerry mobile devices can be added to the ITS BlackBerry Enterprise Server for complete synchronization to Exchange resources. Just like the email and calendar synchronization between Outlook and the Outlook Web App your Blackberry will have full access to all your email messages and to your calendar. Check out the King's University College Mobile Device Policy to see if you qualify.
Vacation Messages and Email Filtering
http://www.kingsmail.ca is your spot for the central management of vacation messages and email filters. Not only are you able to easily create a vacation message (just log in, click options, and select "Tell people you're on vacation") but you can also create a variety of inbox rules to help automatically filter your email – automatically forward messages, automatically sort, automatically delete – with an intuitive rule-based wizard.
How To
For answers to commonly asked questions see the How To section.