Psychology professor Dr. Cathy Chovaz receives research grant for autism work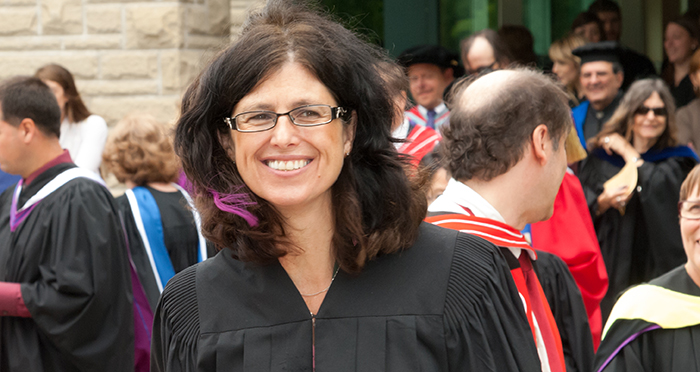 Dr. Cathy Chovaz, assistant professor in the Department of Psychology at King's, is the recipient of the 2013 Western University Autism Centre of Excellence Research Award. Dr. Chovaz is Canada's first Deaf clinical psychologist and teaches courses in clinical psychology, focusing her area of expertise on mental health and deafness.
King's Associate Academic Dean, Dr. Renée Soulodre-La France, is pleased that Dr. Chovaz's innovative approaches to research in Autism and the Deaf are being supported and encouraged through Western University.
"Dr. Chovaz's research is internationally recognized as ground-breaking and practically applicable. Her research and teaching have already had an impact on the lives of many people at King's and the broader community," says Dr. Renée Soulodre-La France, Associate Academic Dean at King's. "Dr. Chovaz's receptive willingness to apply cross-disciplinary possibilities to her research is a model for scholarship at King's. This award is testimony to the value of research that risks crossing traditional boundaries."
The grant monies will go towards the work directed by Dr. Chovaz and her colleague, Dr. Ken McIsaac, Western Engineering Department.
"Ken and I are developing an electronic device which will capture the immediate environment around deaf children with autism who are experiencing extreme disruptive behaviours," says Dr. Chovaz. "We believe that there are potentially environmental triggers that are not observable by parents and educators who work with these kids and therefore they are limited in their ability to discern what may be a behaviour trigger. These children frequently miss out on valuable instructional or therapeutic time."
The electronic device will measure stimuli such as temperature, noise, smells, humidity, and vision. It will allow Dr. Chovaz and Dr. McIsaac to analyze the data and determine patterns of triggers and behaviour responses.
Dr. Chovaz hopes to use this biomedical technology to identify and change adverse environmental triggers, particularly with deaf children as they remain "a significantly understudied and underserved group of children with Autism Spectrum Disorders."
By merging clinical psychology and computer engineering, Dr. Chovaz and Dr. McIsaac will be able to study the causes of behavioural issues in ASD individuals with a device that has never been explored before.
The Western University Autism Centre of Excellence invites applications for Research Awards to conduct research into causes, diagnosis, and treatment of autism and related pervasive developmental disorders.
For more information about Dr. Chovaz's work, please visit www.deafkidspsych.com/