ROAMS - Configuration and Setup
This guide will walk you through requesting remote access to your King's computer, as well as installing and configuring the resources necessary. If you have already done these steps, the QuickStart guide can be found below:
ROAMS - QuickStart Guide (Windows)
1. On any computer, go to the following website to submit a ticket: http://www.kings.uwo.ca/itsworkrequest/
2. Select SUPPORT - Login / Credentials / Access and enter all of your details.
3. Indicate in the Details section that you would like to request ROAMs access.
4. Click Submit.
Your request has been submitted for approval. Once approved, you will receive notification by email.
1. Once you've been approved, go to the following website on your home computer: http://remote.uwo.ca/downloads/
2. If you know the version of your operating system, select it. If in doubt, select 64-bit. If 64-bit fails to work, repeat these steps with 32-bit instead.
3. Run the downloaded file.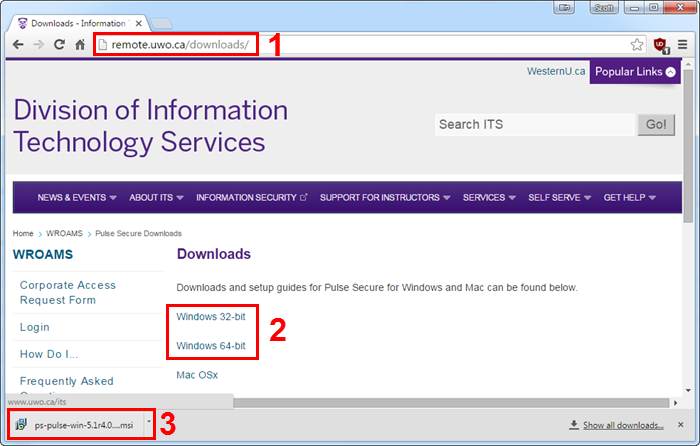 4. For most installations, click Run/Next/Install/Yes until the installation is complete. Click Finish.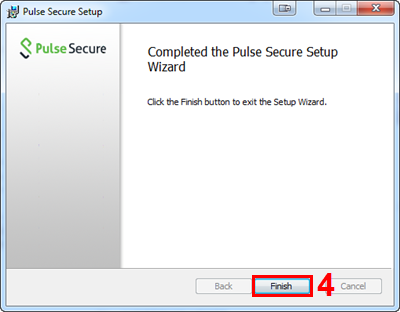 5. Once installed, it's time to run the program. Click the Windows/Start button and type Pulse. Click the Pulse Secure icon to start it.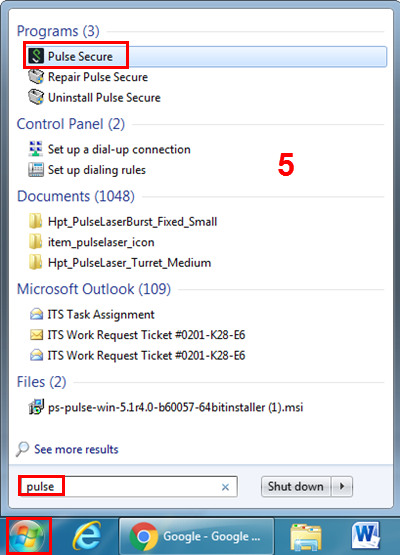 6. When the Pulse Secure window opens, click the + button to create a new connection.
7. In the new window, name your connection and add the following Server URL: remote-gate.uwo.ca/kings
8. Click Add.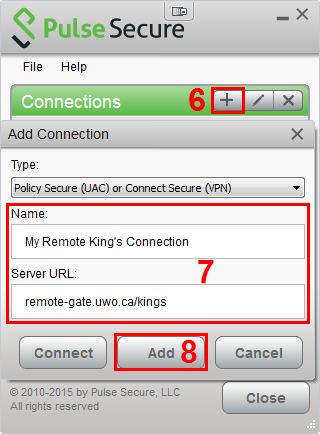 9. Click Connect.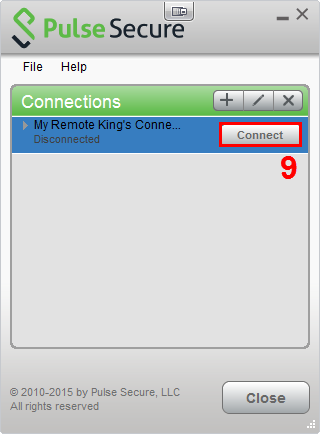 10. When prompted, enter you UWO/Western credentials (not King's credentials). Choose whether you wish to save your credentials and click Connect.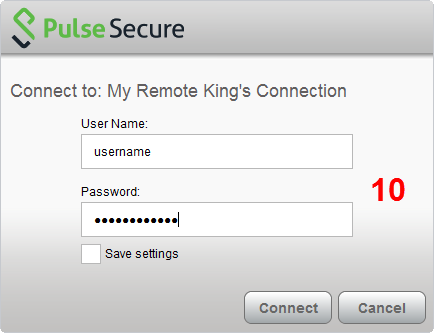 If you are now ready to connect to your work computer, continue to the QuickStart guide here:
ROAMS - QuickStart Guide (Windows)
If you experience any difficulties, please don't hesitate to contact King's ITS by submitting a ticket:
http://www.kings.uwo.ca/ITSWorkRequest/