Qualtrics Survey Application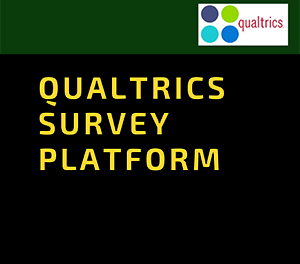 Qualtrics is a web-based survey software tool available for use by all King's University College faculty, staff, and students. Qualtrics can be used to capture survey results from a publicly-available survey, or from users who are specifically given access to a survey. Qualtrics may be used to:
Assist faculty, staff, and students with collecting data for research projects or assignments
Assess user satisfaction with academic or administrative programs or services
Collect requests for service or assistance in place of a traditional HTML form
Who Can Use this Software?
All King's faculty, staff, and students have access to Qualtrics. Qualtrics requires the use of a Western computer account for access. Individuals outside the College community may complete Qualtrics surveys but cannot login to access survey results.
Setting Up a Qualtrics Account
When you access Qualtrics for the first time, you will be required to set up an account. You will need to enter your first and last name, along with your email address, Western account username, and account password. This will set up your account with Qualtrics; after this, you will only need to log in using your account username and password. Please keep in mind that the account username and password are case-sensitive.
Support
Navigate to http://mysurveys.uwo.ca
Click the Log In To MySurveys tab

You will be prompted to enter your Western University credentials. Your credentials will use existing Identity Management (IDM) infrastructure for validation.
Click on the FACULTY or STAFF MEMBER MySurvey Login link.

You will be taken to a Western WebLogin page. Please enter your Western University credentials and click Log In. Your Qualtrics User Account will be created and you will be transferred over to the Qualtrics environment.
At this point you will need to accept the Qualtrics Terms of Use Policy. You will only be prompted to accept this on your first login.
After accepting the Terms of Use Policy you will be presented with your Qualtrics Homepage and you can now start to create/manage surveys.
After your first login, your user information will be saved along with all of your created and distributed surveys and results.
To learn more about how to use the Qualtrics app, including creating, editing, and distributing surveys please navigate back to the http://mysurveys.uwo.ca homepage and use the Getting Started and Documentation tabs. Here you will find a great source of user-friendly How-to videos, FAQs, and Knowledge Base.
If you require further assistance please contact King's ITS here:
https://www.kings.uwo.ca/ITSWorkRequest/