Photo Uploader Instructions
Detailed Instructions
In order to have your university ID card ready for you upon your arrival, we ask that you submit a professional color PASSPORT PHOTO. If a Passport Photo is not possible, you may submit a color snapshot showing a full front view of your head and shoulders according to the requirements shown on this site.
Step 1-Take Your Photo

The above photos represent acceptable OneCard photos. Notice that they are very similar in size and requirements to U.S. Passport photos. In fact, we recommend that you have your photo taken by one of the many retail establishments that offer passport photo services. Many of them are able to provide you a digital copy of the photo which you can then easily upload to our system.
When taking your photo, please use the following as guidelines to ensure your photo is accepted:
A natural expression is encouraged
Brightness and contrast should be adjusted to present the subject and background accurately
Photos without proper contrast or color may obscure unique facial features
Color should reproduce natural skin tones of student
Fluorescent or other lighting with unbalanced color may cause unwanted color cast in the photo
Student's head should be positioned directly facing the camera
Photo should capture from slightly above top of hair to middle of chest
Eyes should be open and looking at the camera
Eyeglasses should be worn if normally used by the subject
Do not wear sunglasses
Glare on eyeglasses can usually be avoided with a slight upward or downward tilt of the head
Background should be plain white or off-white
Include headpieces if worn daily for religious purposes; they should not obscure or cast shadows on the eyes or any other part of the face
Over- or under-exposure may render the photo unusable
Facial features of student should be clearly evident in the photo
Lighting should be adjusted to avoid shadows on the face or background
High-resolution photography is strongly recommended
Digital photos should be produced without discernible pixels or dot patterns
Fine facial features should be discernible
the entire face should be in focus
No red eye or flash reflection
Do not wear costumes or hats
Do not have any other object or person in the picture
Photo must be in color
Photo must be taken in the last 6 months
A passport photo in .jpg format works best!
Have your picture taken, according to the diagram below: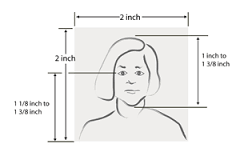 STEP 2- Upload Your Photo
You can access the Photo Upload application here.
This page requests that you complete an informational form before uploading your photo to the OneCard system. Please enter the following information: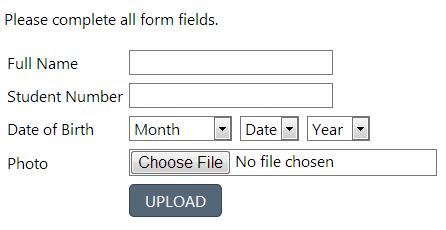 Once you have entered the required information, click on the link to "Browse" for photo. This will launch a dialog box in your browser. You can select the location of your file. Once you have selected the photo's file location, select it by clicking on the "open" button in the dialog box.

Click the "UPLOAD" button to upload your photo to the system.
After clicking the "UPLOAD" button you will be presented with a confirmation.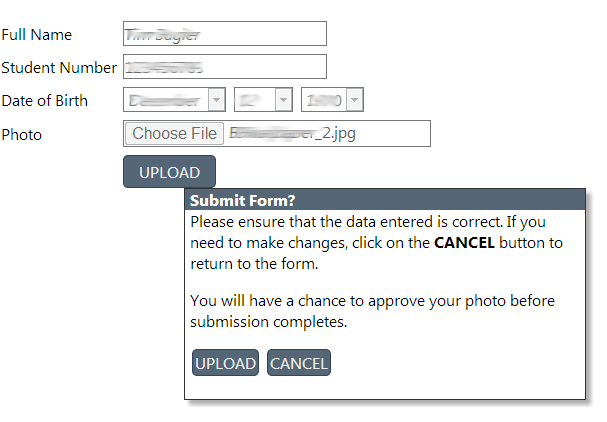 Select "UPLOAD" to proceed or "CANCEL" to go back and make changes.
STEP 3- Preview Your Photo
Step 3 will display your photo.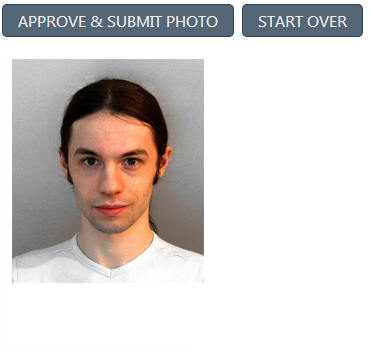 Review your photo to ensure it meets with the guidelines in step 1. If it does not or you would like to use a different photo, select "START OVER".
If the photo meets the guidelines of Step 1 and you are happy with the photo, select "APPROVE & SUBMIT PHOTO"
If your photo has been uploaded successfully, a confirmation message will display as shown below: