Professor Sheri Henderson teaches Writing 1002F and Writing 1022G at King's. Previously, her last class was half a world away. She spent almost 15 years teaching in the United Arab Emirates (the UAE). It has been a world-wide journey of teaching that has now landed in London.
Prof. Henderson has taught on four continents over thirty years and believes she has taught or worked with over 100 nationalities.
She got her start in teaching early, in Sunday school and summer school. Afterwards, she moved on to two of her alma maters: Queen's University (where she was a teaching assistant and, in 2019, was named one of the Top 50 influential alumni in 50 years at Queen's University) and Northern Collegiate Institute and Vocational School in Sarnia where she taught German, French, Visual Art and English. She then led the English Department at East Lambton Secondary School in Watford.
She has since taught in England, Germany, Switzerland, the UAE and Egypt. Closer to home, she just finished developing a school curriculum based on the Blackfoot language for the Kainai Tribe of southern Alberta and has worked remotely with an international team at AMIDEAST to design digital English Language Learning materials for Edraak, a massive open online course (MOOC) platform, an initiative of the Queen Rania Foundation in Jordan. She occasionally teaches with the Lambton-Kent and Thames Valley District School Boards.
Both her grandmother and aunt were teachers, graduating from London's Normal School, the predecessor of Western's Faculty of Education. "I was really fortunate to have some fantastic, engaging and inspiring teachers during my formative years, and some very important mentors. Teaching seemed to be a good fit for me," she says.
In 2000, she visited Abu Dhabi on holiday. "The sunny, warm weather drew me back (in 2004) and the community kept me there. The country and its people hold a special place in my heart," says Henderson.
She taught soldiers and officers of the UAE Armed Forces in Abu Dhabi and Ras Al Khaimah. In 2007, she joined the Higher Colleges of Technology and taught in the Foundation Year and Bachelor's program at Ras Al Khaimah Men's College in one of the Northern Emirates.
"For 14 years I taught only Emirati men, and I can say that I was held in the highest esteem as a woman and as a teacher. The greatest challenge was to convince the students they could learn. Once they understood I was intent on seeing them achieve their goals, they flourished," says Henderson.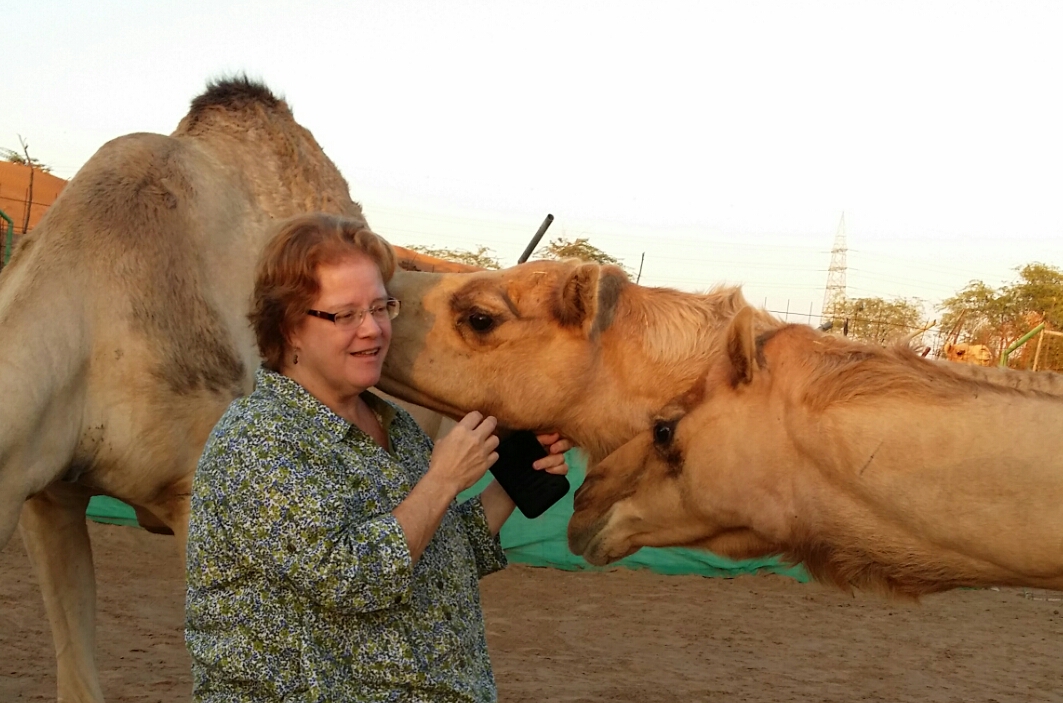 Prof. Henderson encouraged her students to adapt their cultural preference for strict memorization in favour of trying a constructivist approach, which she explains, "is learning by doing."
"I absolutely love watching students explore problems and discover solutions for themselves. I encourage them to 'try, try and try again' which builds skills of perseverance, resilience and self-confidence," she explains.
Prof. Henderson became an accidental celebrity in the UAE in 2017. She took part in the UAE's National Day, held annually on December 2. Everyone is encouraged to dress in Emirati attire for a day. Over the years, the mothers, wives and sisters of soldier-students gave Prof. Henderson Emirati clothing for the occasion. In 2017, she celebrated these women by wearing these gifts.
A video of her wishing a young woman's family and the village of HabHab a Happy 46th National Day was sent to a UAE New Agency. The video soon went viral, with now close to 129,000 views. Watch the video at https://www.instagram.com/p/BcPD04nnXw5/?hl=en&taken-by=3meed_news
Prof. Henderson was honoured by the community council for raising the village's profile. She was celebrated in the media as "the most famous grandmother in the UAE," and became an "honorary Emirati" for her efforts.
Impressed by the caring, compassionate and collaborative community at King's, Prof. Henderson landed here in Fall 2019 after chance led her to pass by King's in May. "I know what it's like to live abroad and study in a foreign language and I'm extremely happy to be teaching multilingual students in the Writing Program here at King's. I hope to make a contribution here as an empathetic educator who is able to instil a love of learning in her students," says Prof. Henderson.
For more information on Professor Henderson, read the article recently published in The Sarnia Journal at https://thesarniajournal.ca/globetrotting-teacher-has-worked-with-100-nationalities/
Photo credit: Michaela Elcke and Joan Juanay.