King's Senior Administration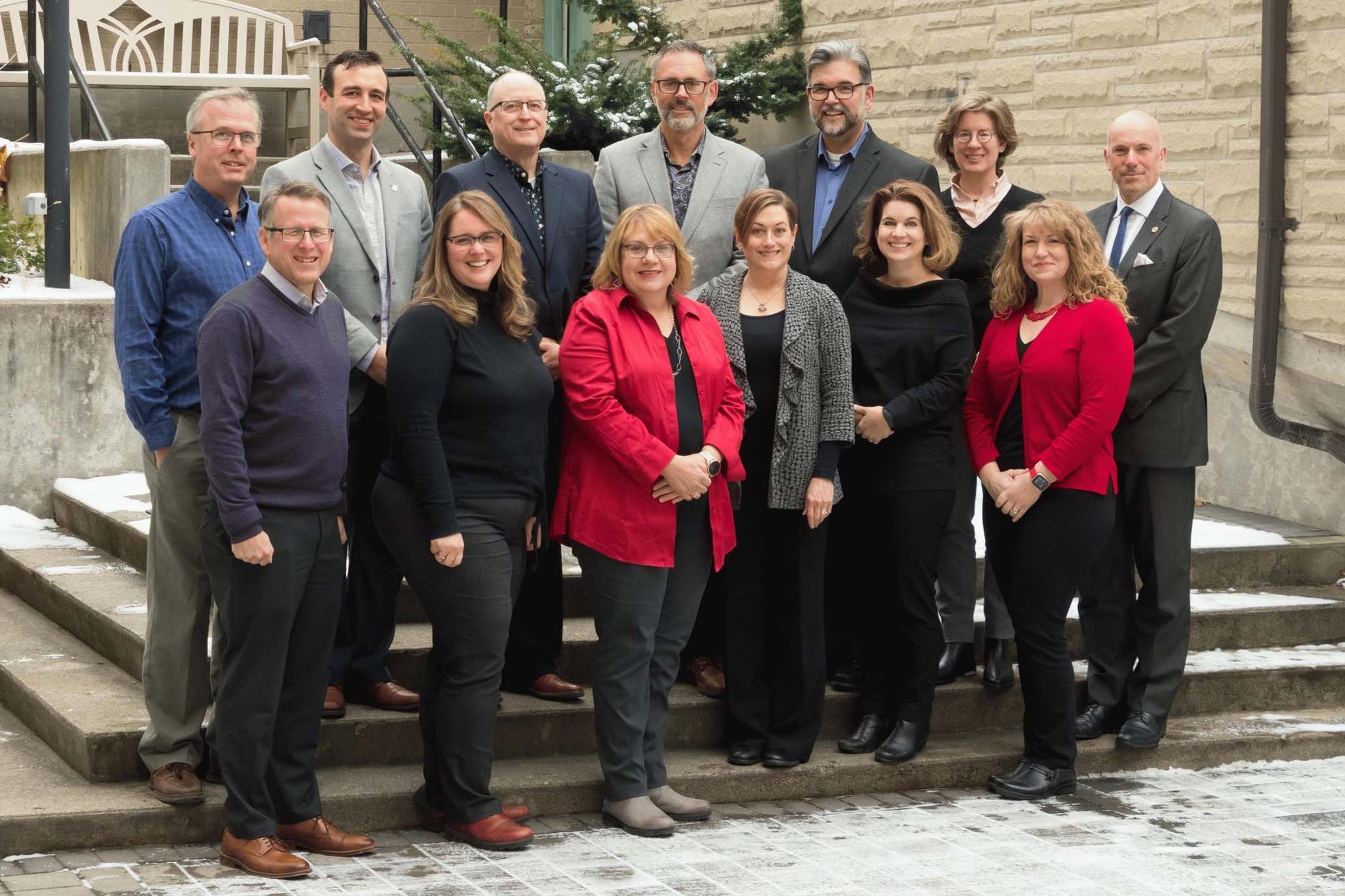 Front row, left to right:
Joe Henry, Dean of Students
Tracy Cunningham, Director of Enrolment Services and Registrar
Jane Antoniak, Director of Communications and Media Relations
Jana Gordon, Executive Director, Alumni and Development
Adrienne Co-Dyre, Director of Libraries
Julie Horne, Director of Human Resources
Back row, left to right:
Chris MacNeil, Director of Physical Plant
Andrew Jardine, Executive Assistant to the President
Tom Jory, Director of Information Technology Services
Jeff Major, Vice-President Finance and Support Services
Jim Panchaud, Director of Campus Ministry
Laura Melnyk Gribble, Associate Academic Dean
David Malloy, President
(Missing: Gillian Balfour, Vice-President and Academic Dean)
---

Vice-President finance and Support Services – Jeff major
Accounting
Accounts Receivable/Accounts Payable
Student Financial Assistance
Payroll/Benefits Administration
Budgeting
Purchasing
Insurance
Investments
Secretary to the Board

Vice president External relations – Karen Thomson
academic dean (interim) – Robert Ventresca
Dean of Students (Student Affairs) – joe henry
Residence and Campus Life
King's International
Accessibility, Counselling and Student Development
Orientation and First Year Experience
Student Support and Case Management, including support Gender and Sexual Violence and Code of Student Conduct
Career Development and The King's Promise
Liaison with the King's University College Student Council
Liaison with Western Student Experience

Executive Director, Alumni and Development (acting) – Kim Malcolm
Alumni programs and services
Fundraising and development programs
King's University College Foundation Board and Alumni Association Board Management
Data management

Director of Campus Ministry – jim panchaud
Catholic Mission and Identity
Community Building and Support
Communal Prayer and Ceremony
Christ the King University Parish Community
Social Justice and Outreach
Pastoral Care and Counselling

Director of communication & media relations – Jane antoniak
Internal and External Communications
Social Media and Digital Communications
Media Relations
Community Relations
Marketing Strategy

Director of enrolment services & Registrar – tracy cunningham
Admissions
Student Recruitment
Recruitment and Admissions Publications
Enrolment Management and Reporting
Academic Services (Time-tabling, Examinations, Student Records)
International Programs

Director of Equity, Diversity, Inclusion and Decolonization (EDID) – jennifer slay
Equity, Diversity, and Inclusion
Truth, Reconciliation and Indigenous Engagement
King's/Brescia Joint Presidents' Anti-Racism Working Group

Director of Human Resources – Karen Gingrich
Policies and Procedures
Compensation and Job Grading
Health and Safety
Recruitment and Selection
Employee Relations
Payroll and Benefits

Director of Information Technology Services – Dominique perrault
Information and Technology Services
Instructional Media Services
Computing and Network Services
Web Resources

Director of Libraries – ADRIENNE CO-DYER
Information Services
Technical Services and Systems
Collection Management
Virtual Library

Director of Physical Plant – CHRIS MACNEIL
Central Services (Phone, Mail, Printing)
Security
Parking
Custodial and Housekeeping Services
Physical Plant (Maintenance, Renovations, Construction, Grounds)
Health and Safety (Joint Respons.)
Note:
College Council is the academic policy-making body of the College, and is parallel in function to the Senate of the University of Western Ontario. By its constitution, College Council has established a Faculty Council, whose main task is the development and review of academic policies, programs and plans.
Revised January 2022