Sun, September 05, 2021 - Sun, September 12, 2021
9:00 AM - 12:00 AM
Residence
King's Campus
Possible fees for in-person events.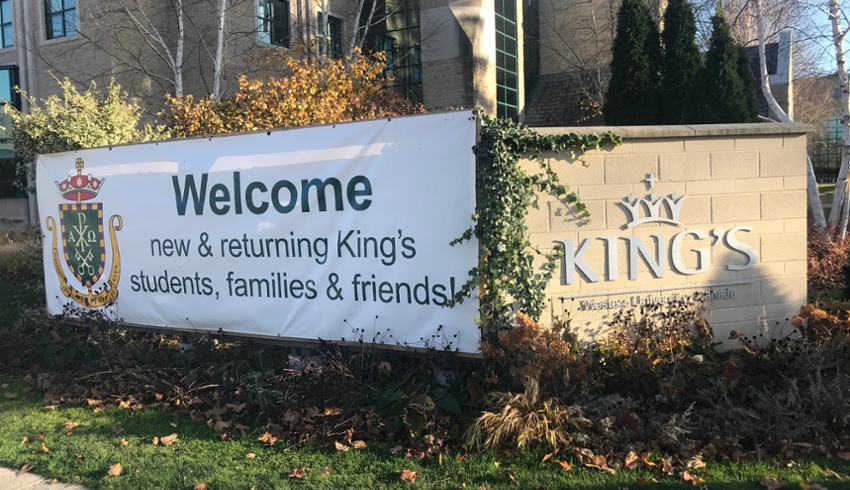 ---
Welcome to O-Week! **Note: This schedule is subject to change due to provincial health regulations.**
Agenda
Monday, September 6, 2021 - Opening Day
9 a.m. - King's O-Week Opening Ceremonies: Introductions from Sophs, KUCSC Exec, King's Exec, Campus Ministry, Residence Staff.
10:30 a.m. - King's Got Spirit: Introductions from Sophs, KUCSC Exec, King's Exec, Campus Ministry, Residence Staff
11:30 a.m. - OC 101 Presentation: Presentation about all things being an Off-Campus student! Residence Games: Time to learn King's cheers and our opening ceremonies dance.
1:30 p.m. - Whose Line is it Anyway?: Beginner's improv event run by the King's Players.
2:30 p.m. - Explore King's: A scavenger hunt style campus tour to allow students to get to know the campus in an interactive way!
6:30 p.m. - Western Opening Ceremonies (Western)
9:30 p.m. - Fast Friends: A speed-dating like event but to make friends! Western welcoming party.
Tuesday, September 7, 2021 - Academic Day
9 a.m. - Dean's address, Excellence Award Speech & King's Trivia: Kick off Academic Day with addresses from the Dean and prominent faculty before faculty breakouts where students can choose their own adventure with small sessions with professors from their faculties of choice. (
the Zoom link can be found here
)
Noon - Lunch and Resource Fair: Subway lunch and booths from KAMP, the Write Place, ACSD, the library, etc.
2:30 p.m. - Can I Kiss You?: Presentation that will be livestreamed. Themes about consent and safe sex. All residence constituencies and HBK participate in this event.
7 p.m. - One Love (Western)
9 p.m. - Transition Programming (Western)
10:30 p.m. - King's Outdoor Movie Night: Move to be determined. Bring your own blanket.
11 p.m. - Late night programming.
Wednesday, September 8, 2021 - Wellness Day
10 a.m. - Yoga and Guided Meditation on the Greens
Noon - Petting Zoo
1 p.m. - Alumni Backyard Games: Mini golf, Spike Ball, Volleyball, Basketball, etc.
3:30 p.m. - Wellness Wednesday: Wellness stations like arts and crafts, nail painting, etc.
5 p.m. - Board/Video Game Tournament
8 p.m. - B&C Variety Show: Come and have a laugh after your first day of classes!
Thursday, September 9, 2021 - Affilifest Day
10 a.m. - Zumba in the Lot - King's Tent
Noon - Walk/Shuttle to Main: Time to go get books or a tour of main campus with your sophs!
Want a tour of main, or just become more familiar with it? Come on over with us! Keep in mind that this is not the only day you can do this, but we wanted to schedule a time to do it together! Shuttles will be used for folks with mobility needs. Meet at the King's Tent.
3:30 p.m. - Hangouts: A landing space for students and sophs in between classes, complete with games, etc. Location: King's Tent
8 p.m. - Affilifest: HBK Carnival. Time for all three of the affiliates to come together and celebrate that HBK spirit! There will be a carnival happening on the Greens with cotton candy, and lots of inflatable games. The HBK Bondfire will be happening in the Alumni Court Backyard, and Trivia will be going on under the King's Tent! Location: King's Greens, King's Tent, and Alumni Court Backyard
Friday, September 10, 2021 - Cultural Day
10 a.m. - Discover London: A presentation about all things being BIPOC or an international student in London. Where to get good cultural cuisine, where to get good haircuts, how to navigate the city, etc.
1:30 p.m. - Cultural Day Reception: Cultural cuisines, music, games
2:30 p.m. - Pride at King's Panel: A panel of LGBTQ2S+ student leaders at King's with designated questions and a Q+A period.
5:30 p.m. - Global Village
9:30 p.m. - Drag Queen Bingo. Western's Drag Show.
Saturday, September 11, 2021 - Charity Day
11 a.m. - O-Serves Brunch
1 - 4 p.m. - O-Serves - Car Wash. King's Sophs will be on hand to wash your car. Donations go to
Safe Space
. SafeSpace is a grassroots, volunteer-run and community-funded support centre for sex workers and their accomplices (allies), and women and gender non conforming folx who are in crisis.
6:30 p.m. - Western Closing Ceremonies (Western)
9 p.m. - UC Hill Concert
9:30 p.m. - Paint Night
Sunday, September 12, 2021 - Closing Day
1 p.m. - King's Closing Ceremonies
The Canadian Mental Health Association (CMHA) will be providing virtual crisis support for Orientation week:
September 7-10, 13-17 from 5 p.m - 9 p.m.
Students can email: studentcrisisappointment@cmhamiddlesex.ca during those days and times to schedule a same-day appointment.