Sun, September 03, 2023 - Sat, September 09, 2023
All day event
Residence and Campus Life
King's Campus
OWeek fee payment is required for all events with the exception of the Academic sessions.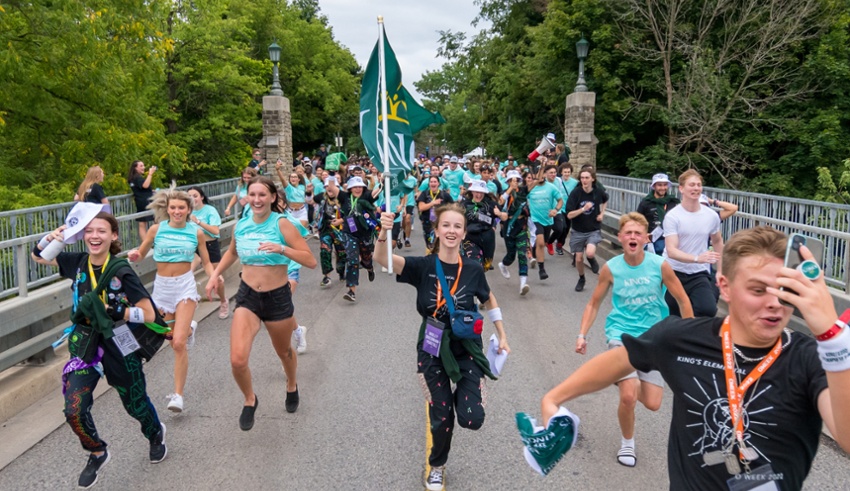 ---
Welcome to OWeek!
The King's Head Soph Team have created a tremendous week of Orientation events for new students. You can also follow kingsfirstyear and check your Western email regularly for additional information about Campus Connections, the Off-Campus BBQ, and OWeek. Please note that the OWeek schedule is subject to change.
Wondering where to find a location? Check our Campus maps page.
Time

Event

Description

Location

Friday, SEPTEMBER 8, 2023

11:00 a.m. - 3:30 p.m.

Drop-in Wellness Events

Meet us in between your classes for some drop-in wellness activities and events! We'll have snacks and other neat events going on so you can feel good for the upcoming semester.

Spriet and Garron Lounges, SLC

2:30 - 3:30 p.m.

Student Wellness Panel

This panel for incoming students to hear the Sophs' experiences with things such as academics, social life, work life, etc. and how these coincide with being a first-year student at King's. Students will have a chance to ask questions about anything they want to inquire about!

KC004

7:00 - 10:00 p.m.

Western Main Stage Programming

King's is participating in Western's evening programming – stay tuned and check the USC app for more information.

Western Campus – Main Stage (Health Science Field)

10:00 p.m. - midnight

Silent Disco

Students can come and try one of our headsets and jam to their favourite music, while their friends could be listening to something completely different. Bring your dancing shoes and meet us out on the dance floor, but quietly!

Vitali Lounge

10:00 p.m. - 12:30 a.m.

Western Late Night Programming

King's will participate in Western's evening programming – stay tuned and check the USC app for more information.

Western Campus

Saturday, SEPTEMBER 9, 2023

11:00 a.m. - 12:00 p.m.

OServes Breakfast

Participate in OServes and get free Brunch! Come grab a bite to eat with our Soph team before we kick off our Charity Day!

Cafeteria

Noon - 3:00 p.m.

OServes Car Wash

Come support your King's Sophs and check "washing your car" off your chore list! Meet us in the P1 Parking Lot and we'll do the rest. All funds will go to charity!

P1 Parking Lot

Noon - 3:00 p.m.

OServes Letter Making

Join us in the Garron Lounge as we write letters to residents and staff in local retirement homes. Help us brighten some other people's days!

Garron Lounge, SLC

Noon - 3:00 p.m.

OServes Ice Cream

Have a sweet treat on this hot day! We've teamed up with our friends at Haven's Creamery to bring you some ice cream on campus! For every ½ pint sold, we'll donate $2.50 to charity!

P1 Parking Lot

Noon - 3:00 p.m.

OServes Blind Date with A Book

Come join us for a Blind Date with a Book! All of our books are wrapped so it's a fun surprise when you take it home to read it! All funds will go to charity!

P1 Parking Lot

3:30 - 4:00 p.m.

King's Closing Ceremonies

It's time to officially end OWeek, but this is not a goodbye! Come join us for our Closing Ceremonies and let's reminisce in all the great times we shared together this week!

Kenny Theatre

7:30 - 9:30 p.m.

Western Closing Ceremonies

Our final event all together with Western and the other Affiliates. King's will meet and head over together to Western for their Closing Ceremonies. Stay tuned!

Western Campus – Main Stage (Health Science Field)

9:30 - 11:00 p.m.

Western Main Stage Programming

King's will take part of Western's Main Stage Programming. Stay tuned for more details. See below for King's alternative programming.

Western Campus – Main Stage (Health Science Field)

10:00 p.m. - midnight

Paint and Movie Night

A perfect way to end the evening! Come join us for a relaxing painting tutorial evening while we watch Toy Story in the Student Life Centre. Paint and canvases are supplied by us!

Spriet Lounge, SLC

11:00 p.m. - 12:30 a.m.

Western Late Night Programming

King's will participate in Western's evening programming, stay tuned and check the USC app for more information.

Western Campus