Sun, September 04, 2022 - Sat, September 10, 2022
9:00 AM - 12:00 AM
Residence
King's Campus
Possible fees for in-person events.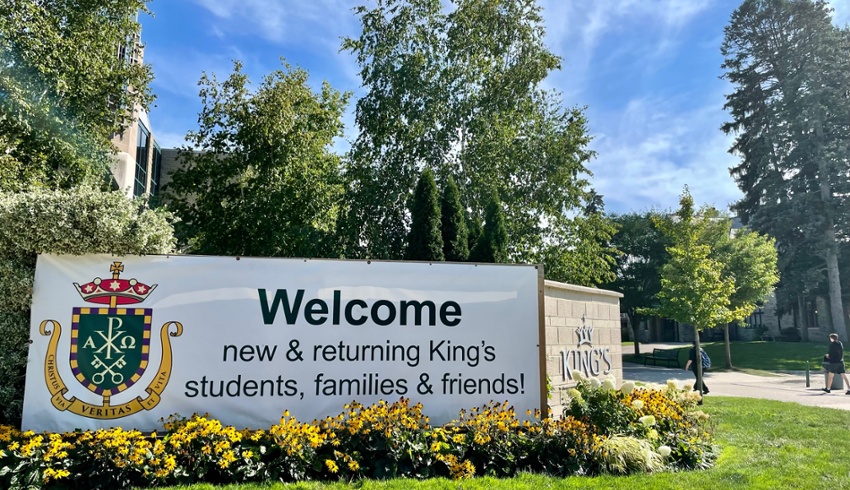 ---
Welcome to OWeek!
Your student leaders have an exciting week planned for new and first year students.
You can find the OKit pick-up schedule here.
Please find the full week's list of events below.
Sunday, September 4
9:30 a.m. - 12:30 p.m. - Residence Move-in.
11:30 a.m. - 1:30 p.m. - Free BBQ lunch (open to parents and students) in Parking Lot 1 (in front of Alumni Court).
9:30 a.m. - 4:30 p.m. - OKit Pickup in Labatt Hall. Note: Off-Campus students, your pick-up times are between 11:30 a.m. - 1:30 p.m.
1 p.m. - 2 p.m. - Residence Unit Meetings - in various locations based on residence
1 p.m. - 2 p.m. - Parent Info Session in Labatt Hall 100
2 p.m. - 3 p.m. - Off-campus 101 in the Kenny Theatre. Watch this presentation that talks about all things being off-campus. Being an OC student is a unique experience, and your Sophs have all the tips and tricks on how to survive your first year of university as an OC student.
2 p.m. - 3 p.m. - End of move-ins, farewell to parents/supporters/families - Residence Buildings.
3 p.m. - 4:30 p.m. - King's Opening Ceremonies in the Kenny Theatre - Join us in the Kenny as we kick off OWeek at King's! Get an overview of what's going on this week and hear from key departments.
5:30 p.m. - 7 p.m. - Student Dinner in the Thames Market Cafeteria
8 p.m. - 11 p.m. - Karaoke in the King Student Life Centre (SLC)
Monday, September 5
9:30 a.m. - Noon - Residence Unit Programming and Breakfast - Various locations based on residence
1 p.m. - 3 p.m. - CultureFest in the King Student Life Centre (SLC)
1 p.m. - 3 p.m. - King's Campus Tours - Departing from the King Student Life Centre
3:30 p.m. - 4 p.m. - King's Cheer Time in the Kenny Theatre
4:30 p.m. - 5:30 p.m. - Dinner - In front of Dante Lenardon - Parking Lot 4. Rain location: King Student Life Centre
5:30 p.m. - 7 p.m. - Travel to Western - Leave from Alumni parking lot. "Storm the bridge" to be led by the King's Sophs.
7 p.m. - 8 p.m. - Western Opening Ceremonies - Health Science Practice Field Main Stage
8:30 p.m. - 10:30 p.m. - Concert - Health Science Practice Field Main Stage
10:30 p.m. - 12 a.m. - King's Bonfire at the fire pit behind Alumni Court
11 p.m. - midnight - Western residence - based - Various locations
Tuesday, September 6 - Academic Day
9 a.m. - 10 a.m. - Breakfast in the King Student Life Centre
10 a.m. - 11 a.m. - Academic Dean's Address by Dr. Robert Ventresca, and address by the Associate Academic Dean, Dr. Mark Yenson. There will also be King's trivia in the Kenny Theatre.
11 a.m. - Noon - How to: University in the Kenny Theatre
Noon - 1 p.m. - Faculty breakout sessions - Various locations
1 p.m. - 2 p.m. - Lunch in the King Student Life Centre (SLC)
2 p.m. - 3 p.m. - Faculty breakout sessions - Various locations
3:30 p.m. - 4:30 p.m. - Academic Scavenger Hunt - Starting in the King Student Life Centre
4:30 p.m. - 5:30 p.m. - Academic Wellness Panel in the Kenny Theatre
6 p.m. - 7 p.m. - Fast Friends - in the King Student Life Centre (SLC)
7 p.m. - 11p.m. - Western neighbourhood-based programming - Various locations (see O-Week app)
8 p.m. - 11 p.m. - B&C Variety Show in the King Student Life Centre (SLC)
Wednesday, September 7
11:30 a.m. - 12:30 p.m. - Yoga on the King's Greens (near the Seminary across from the SLC)
11:30 a.m. - 12:30 p.m. - Bollywood Dance Class - Parking Lot 1 (in front of Alumni Court)
12:30 p.m. - 5 p.m. - Drop-in Wellness Activities in the King Student Life Centre
12:30 p.m. - 5 p.m. - Tours of Western - Tours departing from SLC
1 p.m. - 2 p.m. - Pride at King's Panel in the Kenny Theatre
2:30 p.m. - 3:30 p.m. - Neurodivergent at King's Panel in the Kenny Theatre
3 p.m. - 5 p.m. - Shuttle tours of Western's Campus - Shuttles departing from the bus stop (near the rainbow crosswalk).
4 p.m. - 5 p.m. - BIPOC at King's Panel in the Kenny Theatre
6:30 p.m. - 7:30 p.m. - Travel to Western - Leaving from Alumni parking lot
7 p.m. - 11 p.m. - Bring the Beach - Location TDB (Western)
7:30 p.m. - 10 p.m. - One Love - Health Science Practice Field Main Stage
9 p.m. - 11 p.m. - Movie Night and Marble Slab Ice Cream in the King Student Life Centre (SLC)
Thursday, September 8
Noon - 1 p.m. - Zumba - Alumni Parking Lot
Noon - 4 p.m. - Tours of Western - Leaving from SLC
1 p.m. - 4 p.m. - Petting Zoo - King's Greens (across Waterloo St. from the King Student Life Centre)
4 p.m. - 5 p.m. - Academic Wellness Panel in the Kenny Theatre
8 p.m. - 10:30 p.m. - Affilifest - Brescia
8 p.m. - 11:30 p.m. - USC Programming - Various locations (see the OWeek app)
Friday, September 9
Noon - 1 p.m. - Whose Line is it Anyways? in the Kenny Theatre
1:30 p.m. - 4:30 p.m. - Backyard Jam in the field behind Alumni Court
7 p.m. - 9 p.m. - Global Village at the Health Science Practice Field Main Stage
9 p.m. - 11 p.m. - Drag Show at the Health Science Practice Field Main Stage
11 p.m. - 1 a.m. - USC Late Night Breakfast - Location TBD
Saturday, September 10
11:30 a.m. - 12:30 p.m. - OServes Brunch - Location TBD (King's)
12:30 p.m. - 2:30 p.m. - OServes - Support our new students and Sophs at the annual OWeek Charity Car Wash in Parking 1.
3 p.m. - 3:30 p.m. - King's Closing Ceremony - Location TBD
6 p.m. - 7 p.m. - Western's Closing Ceremony at the Health Science Practice Field Main Stage
7 p.m. - 9 p.m. - Western Football Game at the TD Stadium
8 p.m. - 10 p.m. - King's Paint Night in the King Student Life Centre (SLC)
9 p.m. - 11 p.m. - Concert at the Health Science Practice Field Main Stage
11 p.m. - 1 a.m. - USC Late Night Breakfast - Location TBD