King's Players Theatre Company Presents: Dog Sees God
Thu, November 22, 2018 - Sat, November 24, 2018
8:00 PM - 10:30 PM
KUCSC
Kenny Theatre, King Student Life Centre
$10 for students. $20 for public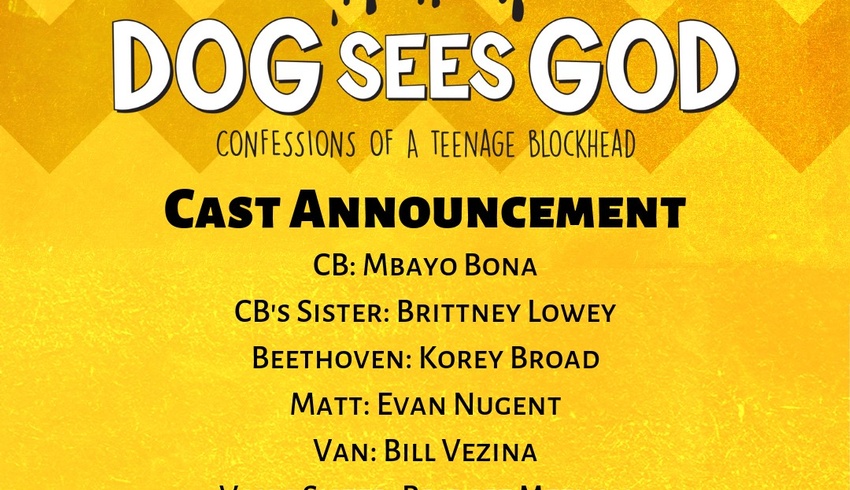 ---
King's Players Theatre Company Presents...
Dog Sees God
Dog Sees God: Confessions of a Teenage Blockhead Is presented through special arrangement with Dramatists Play Services. www.dramatists.com
When CB's dog dies from rabies, CB begins to question the existence of an afterlife. His best friend is too burnt out to provide any coherent speculation; his sister has gone goth; his ex-girlfriend has recently been institutionalized; and his other friends are too inebriated to give him any sort of solace. But a chance meeting with an artistic kid, the target of this group's bullying, offers CB a peace of mind and sets in motion a friendship that will push teen angst to the very limits. Drug use, suicide, eating disorders, teen violence, rebellion and sexual identity collide and careen toward an ending that's both haunting and hopeful.
An "unauthorized parody," Dog Sees God takes a tongue-in-cheek look at what the Peanuts gang might look like as high schoolers. Drug use, suicide, eating disorders, rebellion, sexual relations and identity are among the issues covered in this very dramatic yet very funny play.
From the Director:
I am extremely excited to be directing a play as funny and moving as Dog Sees God at King's this year. The play is heavily reliant on the relationships between the characters, and for me that means developing strong relationships between actors, creating a family dynamic amongst everyone involved. Everyone is welcome to audition, regardless of experience in theatre, just bring a positive attitude and the willingness to create the best play that we can offer.