King's student-athlete Matthew Bettencourt named top Rookie in Ontario football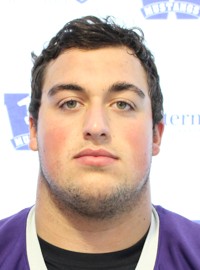 Ontario University Athletics announced the 2016 OUA Football All-Rookies today with King's student-athlete Matthew Bettencourt making the list of the top first-year players in the conference.
Bettencourt joined the Mustangs this season as one of their top offensive line recruits. He helped the Mustangs finish the season as the top-ranked offence in the country, averaging 49.1 points and 569.4 yards per game.
At King's, Bettencourt is in first year Business Management and Organizational Studies. He is a graduate of Catholic Central High School in London. He previously played for the London Junior Mustangs where he was a 2015 OFSAA Champion, recipient of the 2015 Dr. Allen Award for Top Lineman in London, and 2015 OFVL O-Line of the Year.
Bettencourt, and all of the Mustangs, will be back in action this Saturday, November 12, 2016 against the Laurier Golden Hawks, in the 109th Yates Cup. Game time is set for 1 p.m. at TD Stadium in London, with the broadcast live on CHCH and OUA.tv. Fans can also tune in to CHRW Radio 94.9 FM and Newstalk 1290 CJBK. Tickets are on sale via here. Students who use the code VARSITY will receive a discount. As well, any adult who purchases a ticket can bring up to four youth to the game for free. Details can be found on MyKings.
Congratulations Matthew and Go 'Stangs Go!