King's political science students enjoy special access to quiz the Honourable Bob Rae as part of Canadian Club of London event with Huron colleagues.
On May 12, 2021 students from King's and Huron's Departments of Political Science were given a first hand opportunity to gain political insights with the Honourable Bob Rae, Ambassador and Permanent Representative to the United Nations. The special access to Rae, a former Premier of Ontario, was arranged by the Canadian Club of London. The virtual roundtable discussion on "The UN, Canada and Global Economy" was sponsored by the King's University Department of Political Science, while Huron University College is the season sponsor of the Canadian Club of London lectures. As part of these sponsorships, students from the two institutions were invited to be part of the event.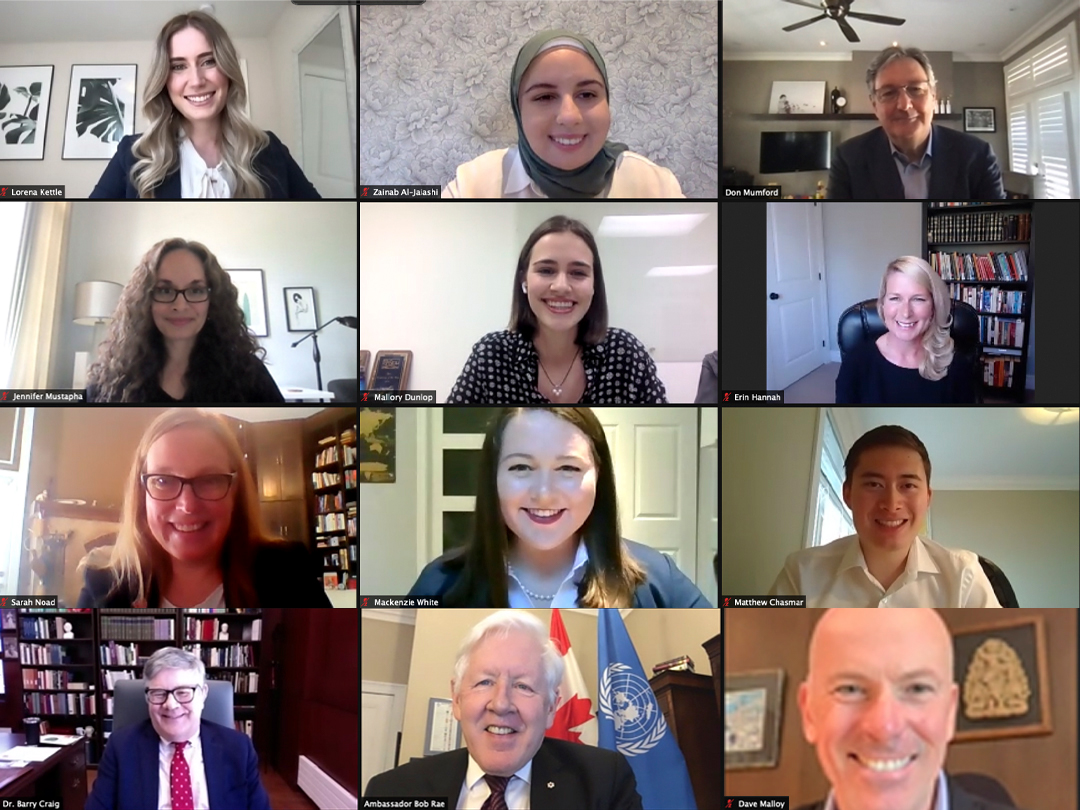 Representing King's is Lorena Kettle who provided an introduction of Mr. Rae and Mackenzie White and Zainab Al-Jaiashi who will be roundtable panelists alongside Huron University College students Mathew Chasmar and Mallory Dunlop.
During her introduction, Kettle said it was "a very special day for political science (students) far and wide", adding that "the King's Political Science department is constantly making available once-in-a-lifetime opportunities."
For his part, Mr. Rae said he was happy to be back (virtually) in London and looked forward to the afternoon's discussion.
Topics that were discussed included:
the current conflict in the Middle East
Canada's recent bid for a non-permanent seat on the UN Security Council
global vaccine equity and waiving patents for COVID-19 vaccines in India
genocide against Uyghar Muslims in Xinjiang province
Canada's current relationship with China
international relations and the role of the UN
the International Criminal Court
The performance of the World Health Organization during the COVID-19 pandemic
Canada's feminist foreign and domestic policy and approach on Indigenous issues
Canada's foreign policy challenges, including climate change
"You have a commitment to a global outlook and that is so important," Mr. Rae told the students and participants.
All three King's participants are finishing their degrees this spring. Kettle is in the 4th year of an Honors BA with a double major in Political Science and Criminology. Both White and Al-Jaiashi are in the 4th year of an Honors BA with a double major in Political Science and Social Justice & Peace Studies.
"The King's students were selected to participate on the basis of their outstanding academic performance and their interest in pursuing careers in international public policy. I knew they would make us very proud," says Dr. Erin Hannah, Associate Professor and Chair of the Department of Political Science.
"The opportunity to engage in a discussion with (the Honourable Bob Rae) was truly a dream for a Political Science student such as myself," says Kettle. She credits King's and Dr. Erin Hannah, the Chair of King's Department of Political Science, with providing her with the tools to fully benefit from this opportunity.
White was delighted to participate in this roundtable event, especially since Rae's current position as the Canadian Ambassador to the United Nations is White's own aspirational career goal. She says her time at King's, including experiential learning trips to Ghana and Ethiopia and participation in a Federal campaign prepared her well, having fueled a love for public speaking, representation, and engagement.
Al-Jaiashi was also excited and honoured to be a part of the panel as participating in political discussions are near and dear to her heart. The Political Science program at King's has not only taught Al-Jaishi so much, but it has also ignited a passion of hers to be a strong student leader, and to advocate for the issues that she believes in.
For all the King's students, this opportunity is yet another example of the doors that Political Science at King's offers for its students.
Kettle has accepted an offer of admission to the Masters in International Public Policy program at the Norm Patterson School of International Affairs at Carleton University. White and Al-Jaiashi have accepted offers to the Masters in Global Governance at the Balsillie School of International Affairs at the University of Waterloo.
Kettle adds that "what makes this once-in-a-lifetime opportunity even more spectacular was that I got to share it with two other powerful female leaders at King's, Zainab Al-Jaiashi and Mackenzie White. These two female student leaders are trail blazers in the Political Science department. With knowledge on international relations and diplomacy, they were the ideal student leaders to pitch the Honourable Bob Rae the important and pressing questions regarding today's political climate."
Rae is the Ambassador and Permanent Representative of Canada to the United Nations in New York. Mr. Rae served as Premier of Ontario from 1990-1995, and interim Leader of the Liberal Party of Canada from 2011-2013. He was elected to federal and provincial parliaments 11 times between 1978 and 2013.
Media coverage:
London Free Press: Students to helm Canadian Club of London virtual event with Bob Rae