Dr. Rae presents at Stratford on founder of Western's Arts Library
Dr. Ian Rae, Associate Professor in the Department of English, French and Writing, used his expertise in Canadian literary history to present on John Davis Barnett as part of the fourth Shakespearean Theatre Conference, held in Stratford, Ontario, on June 16-18, 2022.
Dr. Rae collaborated with Scott Schofield of Huron University College on an exhibit on "The Life and Library of John Davis Barnett." While Barnett was an engineer, he championed the power of humanities training and founded the Arts Library at Western in 1918 through his donation of approximately 42,000 books.
The exhibit included posters featuring a biography of Barnett, a selection of Barnett's rare books, and a digital display of more books and marginalia, as well as profiles of various research projects being undertaken by scholars at Western, Brescia, Huron, and King's on Barnett. Dr. Rae says one feature that would have been of particular interest to attendees would be Schofield's giant database of Barnett's Shakespeare collection, the largest private collection of its time in Canada.
The Barnett exhibition will move directly from the Shakespeare Theatre Conference to the Stratford-Perth Archives, where it will be freely available for public access during the summer.
Dr. Rae's research on Barnett was funded by internal research grants from King's as well as a Social Sciences and Humanities Research Council (SSHRC) Insight Development Grant.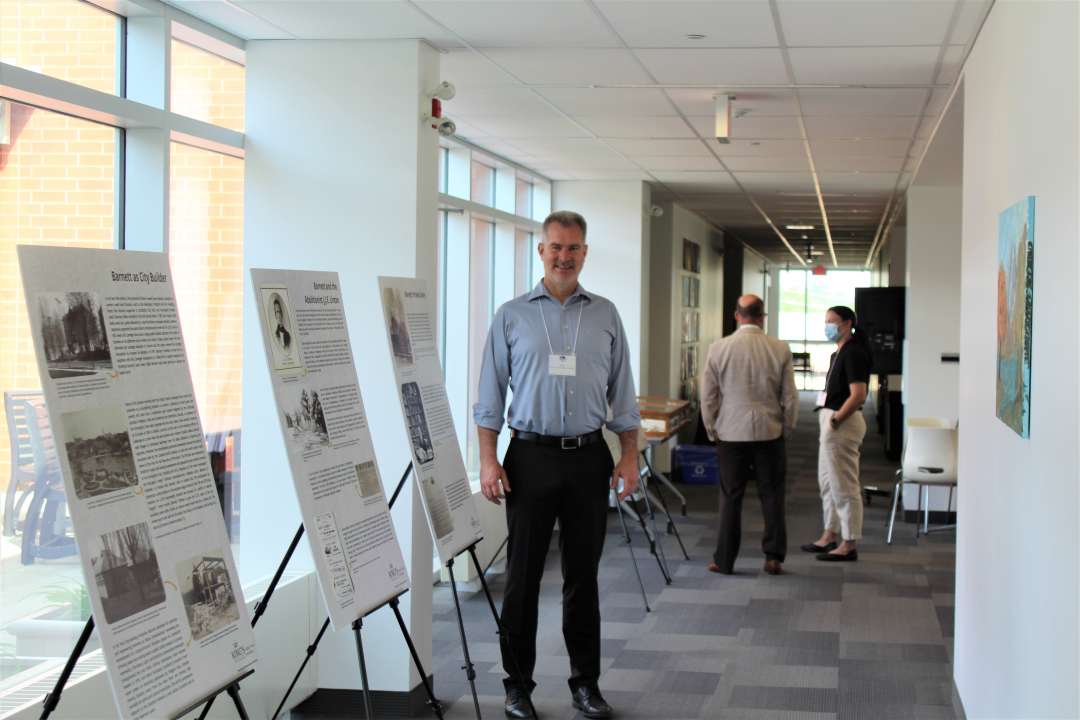 "The King's grants permit a lot of exploratory work and this seemingly idiosyncratic project on a book collector has grown into a large Barnett Working Group across Western and the affiliates, with scholars working together to use Barnett's collection to explore everything from early Canadian poetry networks to the early Black press in Canada to Walt Whitman, Émile Zola and Victorian Shakespeare scholarship," explains Dr. Rae.
As part of the 2019 Shakespearean Theatre Conference, Dr. Rae gave a presentation on the role Louis Applebaum played in launching and developing a world-class music festival in 1955 and Canada's first international festival for feature films in 1956. Applebaum was the music director of the Stratford Festival and the founding director of the Stratford Music Festival, which ran alongside the theatre festival in the 1950s. His work helped the Stratford Festival to become the Canadian hub of the international arts festival circuit during the 1950s.
During the 2019 conference, Dr. Rae talked with Kenneth Graham, one of the conference organizers, about Barnett and the ruins of the old Grand Trunk Railway repair shops that Barnett used to oversee. The conference was held at the Stratford School of Interaction Design and Business, which now resides on the same land where the shops once stood.
"Things grew from there," says Dr. Rae.
In January 2020 in the Weldon Library at Western University, Dr. Rae delivered another presentation titled "'What good are all those books?': Barnett as City-Builder and Public Intellectual" on Barnett and his 42,000-book collection.
"I grew up in Stratford and so I was surrounded by Shakespeariana and classical theatre throughout my youth. However, I have always wanted to use my training as a Canadianist to perform a deep dive into the local cultural community and its achievements. The Barnett exhibition is a product of that research project," says Dr. Rae.
Dr. Rae would like to thank Marissa Ouellette-Quimby and Nikki Sasso Mitchell of the Communications team at King's who "did a great job in helping me to design and format the posters."