Dr. Cushing leads successful Order of Canada bid for a Sister of St. Joseph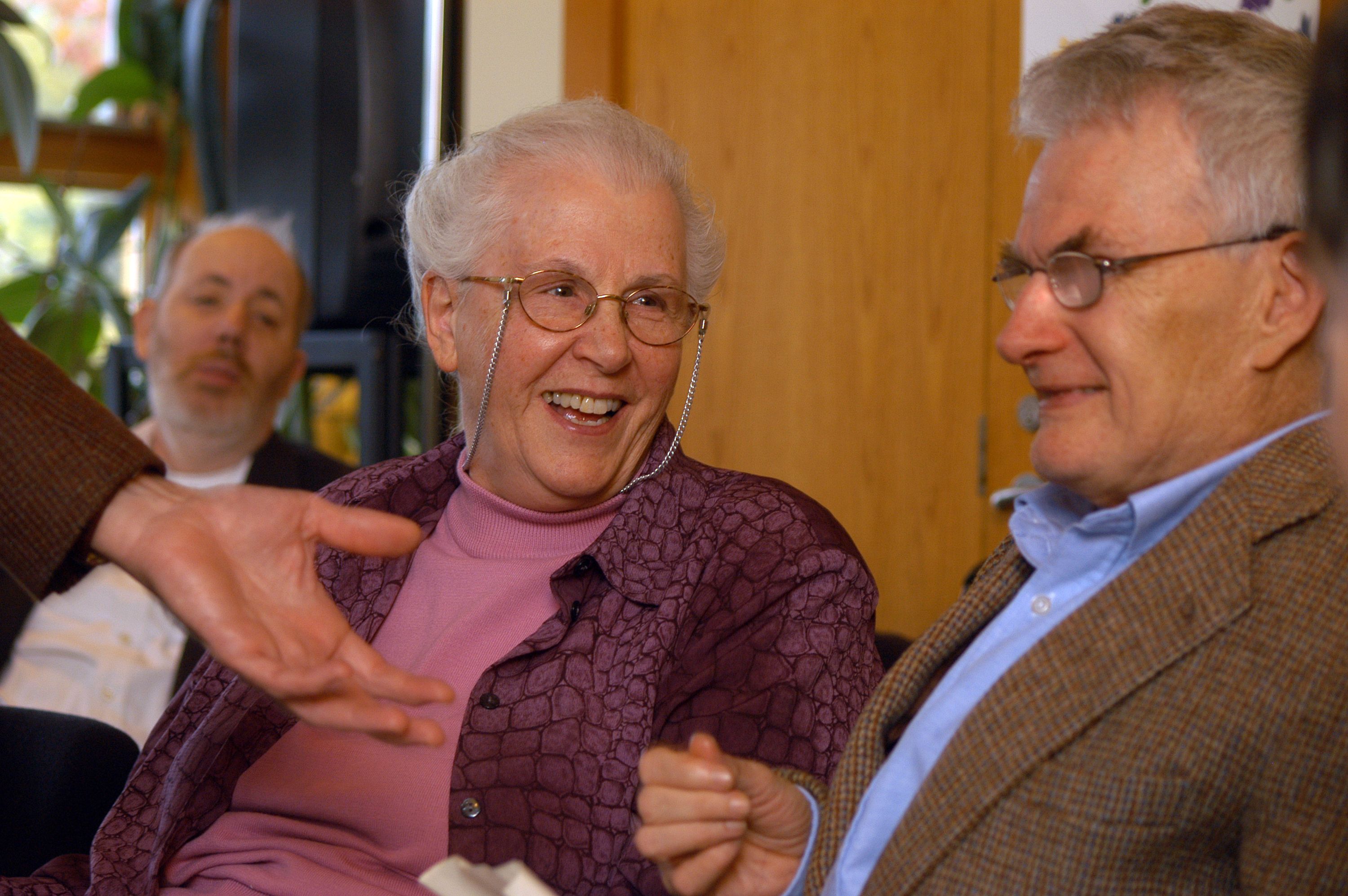 Photo of Sister Sue Mosteller, taken with Peter Porter - Photo by Warren Pot
Sister Sue Mosteller, a Sister of St. Joseph (Toronto branch), has been honoured through appointment to the Order of Canada (Officer) during a ceremony on November 3, 2022, in Ottawa. She was nominated by Dr. Pamela Cushing, Associate Professor of Disability Studies.
"I learned so much from listening to Sister Sue's talks and observing how she works. She was so down to earth and yet, at the same time, retained a grace and depth that seemed to flow from her deep faith," says Dr. Cushing.
Dr. Cushing came to know Sister Mosteller through doing research and workshops with L'Arche. They first met in 2001 while Dr. Cushing lived at Sue's home community of L'Arche Daybreak, doing ethnographic research for her PhD. She was struck by Sister Mosteller's energy, honesty and clear commitment to high-quality work when observing her design and run a series of workshops for young caregivers.
The idea of nominating Sister Mosteller emerged in a conversation with Sister Mosteller's colleagues in 2020 who asked Dr. Cushing to take the lead. "I agreed with delight," she says, adding "It was clear that Sister Sue's contributions were under-played as she didn't want or seek accolades; she worked more under the radar."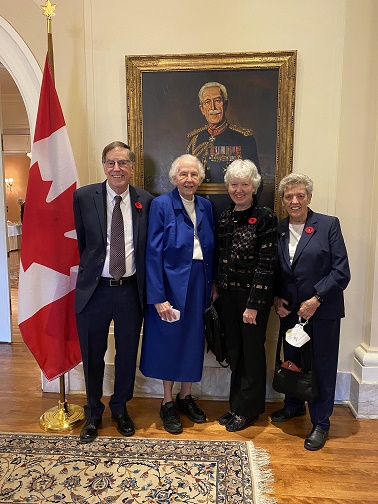 Dr. Cushing undertook several interviews with people from different areas of Sister Mosteller's life. In compiling the nomination form for the Order of Canada, Dr. Cushing explained how Sister Mosteller's accomplishments made her worthy of the Order of Canada. "The goal was to tease out what is really distinctive about Sister Sue in how she led and served amidst other well-regarded leaders connected with L'Arche, including world-renowned Dutch priest and best-selling author Henri Nouwen." He was instrumental in helping L'Arche learn to "do diversity" better – shepherding their shift from a single to multi-faith community. Nouwen's wish was for his close friend Sister Mosteller to be named executrix of literary legacy. Sister Mosteller, with archivist Gabrielle Earnshaw, began over ten years of collaboration on his archives, letters, and books.
Sister Mosteller was appointed to the Order of Canada in December 2019 but the in-person vestiture ceremony was delayed until now due to the COVID-19 pandemic. As part of the ceremony at Rideau Hall, Sister Mosteller was inducted into the Order of Canada by Mary Simon, the governor general of Canada.
The award's citation reads: "For her dedication to improving the lives of people with intellectual disabilities, and for her decades of work as a leader of L'Arche." As part of the nomination form for the Order of Canada, Dr. Cushing wrote that Sister Mosteller "embraced the social justice teachings of the Second Vatican Council by choosing to dedicate her life to serving marginalized and oppressed people, including boldly entering into genuine relationships first with inner-city school children then with persons with intellectual disabilities– living together and breaking down barriers of difference rather than staying at a distance as most religious organizations had in the past."
L'Arche International is a network of faith-based communities integrated in local cultures all over the world. L'Arche strives to build a more just and inclusive world, where every person has a place and can make a contribution. L'Arche London was founded in 1997 and has three homes and a Gathering Place to provide programs that inspire the growth, responsibility, and dignity of all who participate.
"I am honoured, most importantly, because of how the award will help new people get to know all the core members in L'Arche – who are the REAL ones to be honoured. They… give us so much. I did what I did with them and because of their love," Sister Mosteller wrote to Dr. Cushing.
Sister Mosteller is a member of the Sisters of St. Joseph, an organization that has strong ties to King's. The Sisters of St. Joseph (London) have long supported the King's community in education, scholarships, and Indigenous, women's, and social justice initiatives. The Chapel at Windermere on the Mount at 1486 Richmond Street where Sunday Eucharist takes place was built by the Sisters of St. Joseph. They also co-sponsor the President's Lecture of the Veritas Series, sponsor the Sisters of St. Joseph Scholarship, the Sisters of St. Joseph Travel Bursaries, and contribute other grants to our experiential learning programs.
Sister Mosteller is the author of three books: My Brother, My Sister (1972), A Place To Hold My Shaky Heart: Reflections From Life In Community (1998) and Light Through The Crack: Life After Loss (2006).
More information can be found in articles from the Globe and Mail and the Catholic Register.