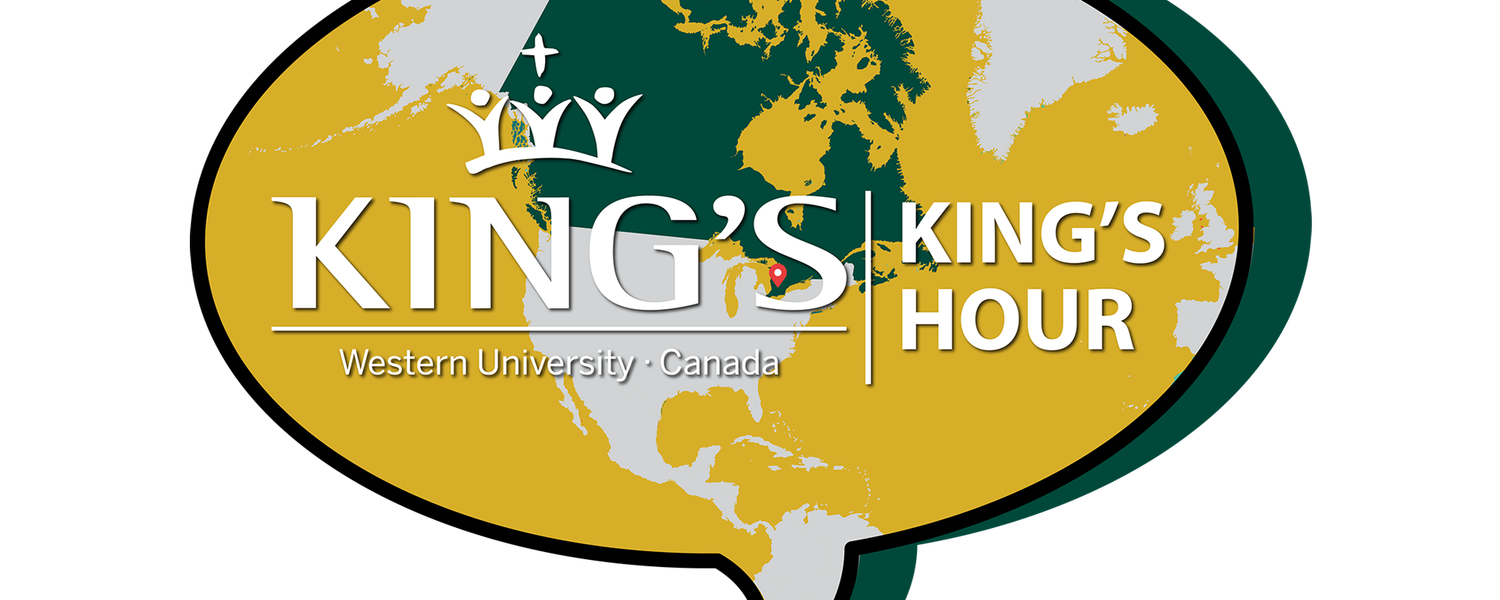 King's Hour is:
A series of culturally and academically engaging events of common interest to the entire King's community (students, faculty, staff, and alumni)
Lectures, discussions or performances on relevant and timely issues of importance to our community and society as a whole
A conversation that will begin in the Kenny Theatre and continue into the classroom and beyond
All King's Hour events start at 3:30pm in the Kenny Theatre (in the Student Life Centre) and will end promptly at 4:20pm to allow students and faculty time to get to their 4:30pm classes. Events will be set up to allow for comments/questions from the audience.
Interested but can't attend King's Hour? Most events will be both live streamed and archived so that they can be watched from off campus or on your own time.
Free admission
Wheelchair accessible
For accommodation please visit kings.uwo.ca/accommodation
King's Hour 2016/2017

September
28

Joseph Boyden - (Principal's Lecture on Contemporary Indigenous Issues)

Joseph Boyden will explore the relationship between art, education and survival through the lens of his personal experience with a focus on the historical and contemporary experience of First Nations peoples. The discussion will reflect the perils and inner strengths of marginalized groups and how the liberal arts and creativity open a door to growth and joy.

Joseph Boyden's award-winning writing career contains a common theme of the inequality of the First Nations peoples. He is best known for his books: Three Day Road, Through Black Spruce, which won the 2008 Scotiabank Giller Prize, and The Orenda, which was named the winner of CBC Radio's Canada Reads 2014. Joseph's work reflects the perils and inner strengths of marginalized groups. The common theme in most of his literary works is the inequality of the Native people. He has a passion to help those Aboriginals who struggle against respect and equality. Joseph has received several awards with the success of his works. He is a teacher of literature and creative writing.

October
26

Rachel Birnbaum, Ph.D., RSW, LL.M - Children's Participation Post Separation: A Voice but not a Choice (Hugh Mellon Award Lecture)

There has been much debate about whether, when, and how children should participate in decision-making post separation and divorce despite the United Nations Convention on the Rights of the Child. Dr. Birnbaum will provide an overview of children's participation post separation using different methods (e.g., views of the child reports, child legal representation, mediation, mental health assessments, and judicial interviews) and providing original empirical data about these methods. The objective of the presentation is to engage in a dialogue about the strengths and limitations in establishing policy and legislation regarding children's participation such as confidentiality, parental consent, and whether the child's voice is evidence or information to be used for decision-making post separation.

Rachel Birnbaum, Member, Royal Society of Canada College of New Scholars, Artists & Scientists 2016 is a Professor cross-appointed in Childhood & Social Institutions and Social Work at King's University College. She has over 25 years of clinical practice experience working with children and families involved in separation and/or divorce. Her research focus is on interdisciplinary scholarship about children's participation post separation, child legal representation, and access to justice in family law disputes. In addition to being the 2016 recipient for the Hugh Mellon Distinguished Research Award, she also received the Stanley Cohen Distinguished Research Award. She was President of the Ontario College of Social Workers and Social Service Workers, Canadian Council of Social Work Regulators, and AFCC-Ontario.

November
23

Evelyn Encalada Grez - Migrant Farm Workers: Re-imagining Rural Ontario
(2:30pm instead of 3:30pm)

Multiculturalism and diversity significantly inform cultural and political imaginings of Canada. However, these imaginings hold sway in urban landscapes rather than the rural. Based on 15 years of community engaged scholarship and organizing with migrant farmworkers in rural Canada, this presentation will map how migrants are erased and segregated in predominately "white" rural townships in Ontario. Social exclusion is built into Temporary Foreign Worker Programs servicing agricultural with severe impacts on migrant workers lives, sense of themselves and belonging. Equity, racial justice and workers' rights and well-being are foundational for strong communities and in this case, require urgent re-imagining of the rural.

Evelyn Encalada Grez is an adjunct professor, transnational community organizer, and labour researcher. For over 15 years she has been working with migrant farmworkers from Mexico and Guatemala in rural Canada and with their families in their home communities. She co-founded the award-winning collective called Justicia/Justice for Migrant Workers (J4MW) that is at the forefront of the migrant rights movement in Canada. Evelyn has shared her knowledge as an activist scholar for migrant justice in various venues, including the United Nations and Parliament Hill, and has collaborated with Min Sook Lee on film projects, most recently "Migrant Dreams".

January
25

Jennifer Keesmaat - Building Cities That Work

Most Canadians now live in urban places. The absence of national strategies related to the development of transit infrastructure and affordable housing affects us all. Canadians are shortchanged by the lack of national policy, investment and leadership that could address these oversights. Jennifer Keesmaat will discuss how creating places where people flourish demands coherent analysis, taking the long view and having a comprehensive perspective. It also demands new kinds of collaborations.

Jennifer Keesmaat, M.E.S., MCIP, RPP is a Founding Partner of Office for Urbanism, a planning and design firm in Toronto, specializing in the integration of planning, design, and consensus building processes. She serves as Chief Planner and Executive Director of City Planning for the City of Toronto. Ms. Keesmaat is a registered professional planner, an award winning member of the Canadian Institute of Planners, and a member of the Congress for New Urbanism. She has a combined honors B.A. from Western and an M.E.S. degree in urban planning from York University, where she studied the political processes that shape urban environments.

February
15

Dr. Susan Dicklitch-Nelson - Making a Difference NOW… While Still in University. (2:30pm instead of 3:30pm)

Imagine helping to save someone's life because of the research that you did in a class? Impossible? Is it really feasible to create high-impact learning opportunities that are transformative for both undergraduates and the communities being served? Community based learning is an innovative pedagogy that is uniquely positioned to provide such real world experiences and real world results. Dr. Dicklitch-Nelson will provide examples of the transformative impact of this approach on the developmental growth of her current and former students and their subsequent positive impact on their local and global communities.

Susan Dicklitch-Nelson is a Professor of Government and former Director of the Ware Institute for Civic Engagement at Franklin & Marshall College. She has served as an expert witness on human rights in Cameroon and Uganda in over 100 political asylum cases in U.S., Canadian, and U.K. Immigration Courts. The U.S. News & World Report in 2011 nationally recognized Dr. Dicklitch-Nelson's work when her Human Rights-Human Wrongs class was listed as one of ten classes that impact the outside world. She has created several high-impact experiential learning opportunities in Ghana, South Africa, Honduras, Ecuador, and Lancaster, Pennsylvania.

March
22

Dr. Nonie Brennan - Building Effective Nonprofits through Leadership, Relationships, and Collaboration.

Drawing from her own experience in the nonprofit sector, Dr. Nonie Brennan will share insights on the key elements of nonprofit work. Successful nonprofits encourage and support leadership throughout the organization. From there, the relationships formed and the people that you connect with the cause can make all the difference. Lastly, in a crowded nonprofit space, collaboration with key partners can help to accomplish a shared vision. Using examples, Dr. Brennan will detail how leadership, relationships, and collaborations can amplify impact.

King's alumna, Dr. Nonie Brennan '84 graduated with a BA in English.

Dr. Nonie Brennan is a visionary leader who utilizes a mission-focused approach
to take organizations to the next level. Her achievements include successfully navigating organization mergers and consolidations, significantly increasing fund revenue, and building effective collaborations. Dr. Brennan currently serves as Chief Executive of All Chicago, which effectively combines immediate resources with long-term strategies to address the complex issue of homelessness. Dr. Brennan is a graduate of King's University College at Western University in London, Canada. She completed her Master of Public Service at DePaul University in Chicago and her Doctor of Management at Case Western Reserve University's Weatherhead School of Management.
Contact the King's Hour Working Group