Jean Vanier Research Centre at King's
Findings of Independent L'Arche Inquiry
On February 22nd, 2020, the leaders of L'Arche International sent a letter to the Federation of L'Arche Communities, which operates in 38 countries worldwide, publishing the summary report it had commissioned from an independent organization regarding Jean Vanier. Please note that the Board of Directors of the Jean Vanier Research Centre is engaged in a process around what impact this will have on the Centre's work going forward. Click here to view the L'Arche International Report.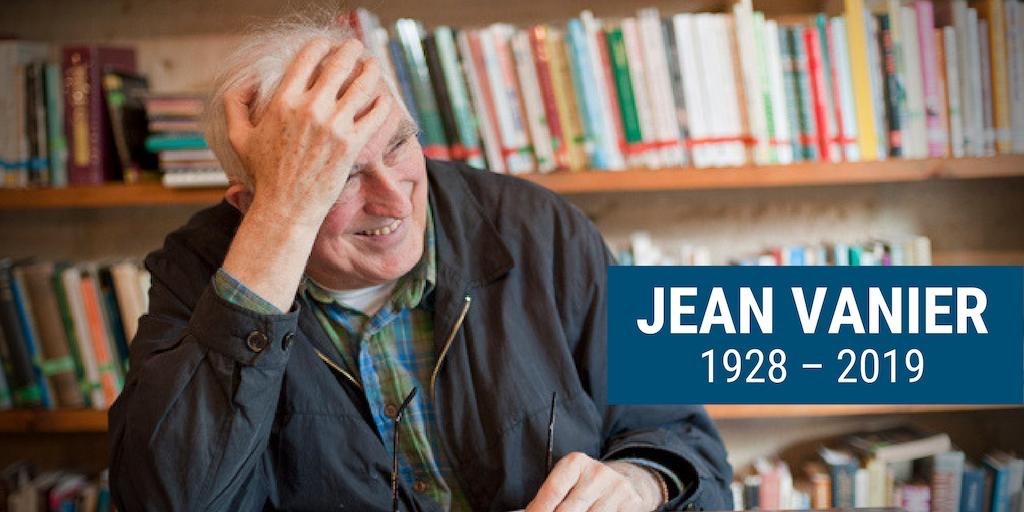 The Jean Vanier Research Centre at King's mourns the loss of Dr. Jean Vanier. A statement from Dr. Pamela Cushing, Director of the Jean Vanier Research Centre can be read here.
The JVRC aims to preserve and promote awareness and understanding of Jean Vanier's messages and legacy. Our goal is to radically change how people envision the value and potential of those disabled, or otherwise marginalized in society.
"Communion means accepting people just as they are, with all their limits and inner pain, but also with their gifts and their beauty and their capacity to grow: to see the beauty inside of all the pain."

JEAN VANIER, FROM BROKENNESS TO COMMUNITY
---
Jean Vanier Research Centre Media Release
At the Jean Vanier Research Centre, our mission is to learn from Jean Vanier's leadership and teaching to radically change how people envision the value and potential of those disabled or otherwise marginalized by exclusion in society and discriminatory attitudes. Read more...
I have had the immense privilege to live a long time in a community with people who live with intellectual disability and diverse assistants. And every day, we discover what it means to be human, and how to grow together amidst our differences. Being in communion with difference is never easy, but along the path we have also discovered many treasures. When you share simple daily life together, and really listen to each other's stories, you discover that we are not actually so different. Our common humanity binds us.

Over the years I, and all our friends in L'Arche, have learned new ways to think about how we are living from scholars and others engaged in similar work as us who also try to discern how to live in peace, and how to recognize the gifts of all people, especially those who are the most vulnerable.

It is my hope that through bringing these thinkers together through the research centre at King's University College, our discoveries can be understood and used in new ways, so that the message that every person has value, and every person is a gift just as they are, can be shared with with more and more people.
For questions or more information about the Jean Vanier Research Centre, please email jvrc@kings.uwo.ca