Ian A. Hunter Malcolm Muggeridge Collection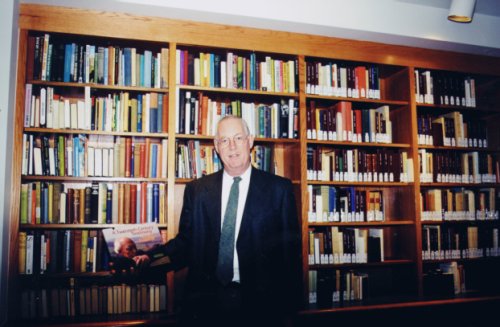 Ian A. Hunter stands in The Eaton Special Collections Room home of The Ian A. Hunter Malcolm Muggeridge Archival Collection.
On December 7, 1998, the Cardinal Carter Library became the proud recipient of a distinguished collection of books and archival material relating to British journalist and thinker, Malcolm Muggeridge (1903-1990). The 300-volume collection includes the complete works of Muggeridge, many in signed first editions, and of his closest literary collaborators and friends: Hugh Kingsmill, (1889-1949), Hesketh Pearson (1887-1964), William Gerhardie (1895-1977), Graham Greene (1904-1991) and Alec Viler (1899-1991). Together, the six are often referred to as the Anti-Bloomsbury Group in the 20th-century British literature.
The archival fonds consists primarily of materials pertaining to Malcolm Muggeridge's life and to Ian Hunter's publications, and includes correspondence, manuscripts, printed materials, legal and financial documents, photographs, audiovisual materials, prints, and a large series of documentation from the "International Commission of Jurists Inquiry into the Famine in Ukraine, 1932-33". It was Muggeridge who, as the Moscow correspondent for the Manchester Guardian, first broke the story of the Ukrainian famine. The Commission, of which Ian Hunter was General Counsel, held hearings in Europe, England, and the United States from 1988 to 1990 and Muggeridge gave testimony as the primary eyewitness to the resultant death and devastation.
Donor of the collection Ian A. Hunter, Professor Emeritus from the University of Western Ontario's Faculty of Law, was a long-time personal friend. In 1978 Muggeridge taught at Western as a distinguished visitor in the Graduate School of Journalism while Hunter lived in Muggeridge's home in England and worked on his biography (Malcolm Muggeridge: a life, 1980). Muggeridge's transition from agnostic socialist to Christian apologist culminated in his conversion to Roman Catholicism in 1982.
Location: Eaton Special Collections Room & Archival Storage
Extent: 168 cm. of textual records and audio-visual material housed in Archival Storage, and all monographs housed in the Eaton Special Collections Room
Finding aid