The Eucharist is the source and summit of the Christian life. Each time we receive Jesus in the Eucharist, it is an expression of our intimate union with the Lord. In Communion we share in the life and work of Christ. This meal unites us with every other believer around the table. As we receive the Body and Blood of Christ, we are empowered to bring some share of his life to all we meet.
Sunday Eucharist Schedule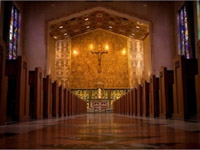 10:00AM at 'The Chapel' at 1486 Richmond Street (on the southeast corner of Richmond and Windermere).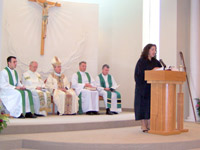 5:00PM at the Worship Space in "Bessie" Labatt Hall at King's University College. Celebrated during the academic year (September to April).

Daily Eucharist Schedule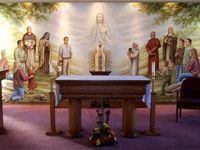 Daily Eucharist takes place in Christ the King Chapel, located on the first floor of Wemple Hall, King's University College.
Tuesdays at 12:00PM
Wednesdays at 12:00PM
Thursdays at 12:00PM
Fridays at 12:00PM
Please note that this schedule is subject to change. Please check the Liturgy Schedule for up-to-date information.