Recent Graduate Award Recipient
Rachel Braden '11 (BA Criminology), '13 (BSW), '14 (MSW)
2020 Recent Graduate Award Recipient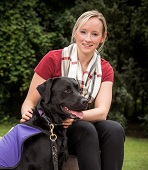 Rachel Braden is a familiar face on King's campus. Not only is she a three-time graduate, having completed a Bachelor of Arts in Criminology in 2011, a Bachelor of Social Work in 2013, and a Master of Social Work in 2014, Rachel also works and teaches in the School of Social Work. "In January, I returned to King's as a contract faculty member, and more recently, I joined the team as the Social Work Program Liaison. It truly feels like coming home."
From her earliest days as an undergraduate student, Rachel knew she had made the right choice in coming to King's. "It was the best of both worlds. King's gave me the opportunity to access all that Western had to offer, but also the benefit of the small class sizes that allowed for deeper engagement with faculty and fellow students. At King's, I was a name and not a number, and I felt like I was part of a community."
From 2014 to 2019, Rachel worked at the London Family Court Clinic, first as a student, then as a clinician on the Child Welfare and Youth Therapeutic Court team, before transitioning into the role of Child Witness Project Coordinator. "I saw on a daily basis the challenges that children and youth experienced when they faced the task of testifying in court. While Canada has come a long way in supporting child victims and witnesses of crime through the use of testimonial aids (testifying in the presence of a support person, or from outside the courtroom), the exercise remains daunting for many." Rachel knew there was more that could be done to help children and youth in the justice system. "My professors at King's always reinforced the importance of "out of the box" solutions, and that is what I did." Rachel learned about Caber, a facility dog who was supporting victims of crime in BC. Using Caber's success as a framework, Rachel created a similar program in Ontario.
In 2016, Rachel became the primary handler for Merel – Ontario's first accredited courthouse facility dog. As a facility dog, Merel provided a consistent, calming presence for children involved in the justice process. Throughout their partnership, Rachel and Merel provided outreach and advocacy locally and across Canada. Rachel has presented and provided training to London Police Services, in the classroom at King's and at Brescia, and throughout the justice system. The pair are also involved with multiple charitable organizations, including National Service Dogs, 24 Hours of Heroes, and the Courthouse Dog Foundation, among many others. They were also named to the 2019 Mayor's New Year's Honour List in London.
Merel has recently retired from active work in the justice system, but she and Rachel are training a future National Service Dog named Piper.
As her career transitions back to the classroom, and back to King's, Rachel is reminded of what makes it so special. "At King's, I have always felt supported. Help was easy to find, and I always felt as though I had somewhere to turn. Faculty and staff challenged me, but supported me, which led to tremendous growth. This is what I love about King's."
Congratulations Rachel Braden '11, recipient of the 2020 Recent Graduate Award.