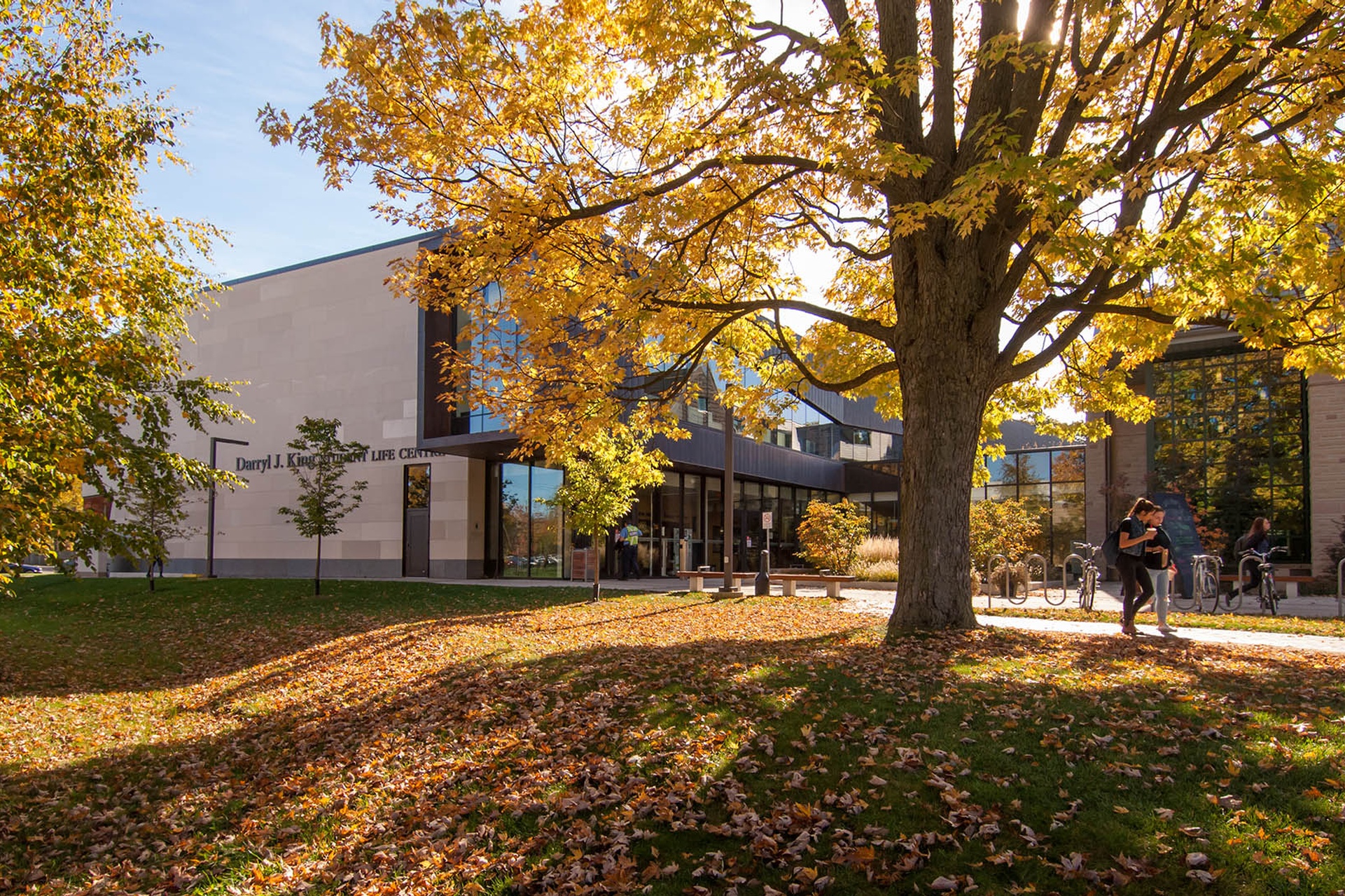 Department Chair & Associate Professor
Office: DL305

Phone: 4397

E-mail: ameek@uwo.ca
Dr. Alison Meek is an Associate Professor in History at King's University College, at the University of Western Ontario. After having initially focused on a career as a professional dancer, including enrolling in professional dance and musical theater programs in Banff, Alberta and London, England, Dr. Meek switched career paths and enrolled in the University of Toronto/Erindale. After completing her PhD in American history at the University of Toronto, she accepted a teaching position in the history department at King's University College in July 2001.
Research Interests
Cold War America, American Popular Culture, Media Studies (television, political cartoons), Terrorism and Extremism, American Foreign Policy, and Florida/Miami history.
Education
PhD in History, University of Toronto, Supervised by Dr. Ron Pruessen
Thesis: The Ghost of the EDC: The United States and European Integration, 1955-1960
MA in History, University of Toronto, Supervised by Dr. Robert Accinelli
Major Research Project: 'On the horns of a dilemma': Eisenhower and Algeria
Honors BA in History (Political Science Minor), University of Toronto/Erindale
Arts Education, School of Performing Arts, London, England
Banff Center of Performing Arts, Banff, Alberta
Teaching
HIS 4392E Terrorism USA
HIS 4306E Cold War America
HIS 3307E American Popular Culture
HIS 3319E American Foreign Relations Since 1775
HIS 2301E The History of the United States
HIS 2133 Under Attack: Terrorism and Extremism in 20th Century America
HIS 4301E 20th Century America
HIS 461E Canada and the United States
HIS 496E Selected Topics: Advanced Research in Cold War US-Israeli Relations
HIS 294Y America, Britain and Canada: The ABC's of Transatlantic Relations (taught at the University of Sussex, England)
HIS 378H America in the 1960s (taught at the University of Toronto)
HIS 447H Advanced Readings in American Popular Culture (taught at the University of Toronto)

On-Going Research Interests and Publication Focus
'Another reason to plan your family vacation someplace else': Cocaine Cowboys, Dead Tourists and Miami's Image Woes, 1979-1995
The Cadillac, The Kiwanis Club, and Harvey Jones
McCarthyism and the Editorial Cartoons of Herblock and The Chicago Tribune and
Breaking News: Comparing the TV News Coverage of Kennedy's Assassination, Vietnam, and the 9/11 Attacks"
Selected Conference Papers
Murders and Pastels in Miami: The role of Miami Vice in Bringing Tourists Back to Miami
Bomb Canada/Soviet Canuckistan: How the Conservative Media in the US Views Canada
Breaking News: A Comparison of TV News Coverage of Kennedy's Assassination and the 9/11 Attacks
The Media at War: From Vietnam to the War on Terror
September 11th -- The Aftermath
The Poisonous Pens: Editorial Cartoons and the Post World War II Anti Communist Hysteria
'Everyone is Against Joe McCarthy Except 150 Million Americans'
The United States, the EEC, and the EFTA
Working to Avoid a Breakdown: The United States, Britain and the Six, 1956-1959
Kibitzers to Participants: Explaining America's European Integration Policy 1955-1960
---
Where are they now? Former King's (American) history students' success stories…
Matt Bak -- Matt is currently enrolled in the MA program in History at Western. He is focusing on the development of domestic security in Canada from the Second World War and into the Cold War era, with special attention paid to the methods and biases Canadian agencies have adopted throughout this period as a possible explanation for the negative views the Canadian public has of security agencies. After this year, Matt will be applying to the Army for an Intelligence Officer position, believing that "the skills I have gained through my history degree – reading, writing, and the ability to critically analyze arguments – should serve me well."
Mark Bezzina -- After graduation, Mark became a real-life Mountie and accepted a posting "on the fringe of civilization; fighting crime and exposing magicians".
Laila Chahbar -- Laila has been accepted to teachers college at Ottawa University. She will focus on J/I (grades 4 -10).
Jason Clark– Having previously worked in Lesotho, South Africa for the GRO Foundation as an advisor on a number of educational and social outreach initiatives. Jason is now enrolled in post-graduate studies at the Centre for International Studies and Diplomacy at SOAS, University of London, England.
Brendon Dantzer-- works for TD Canada Trust as a Financial Advisor (FA). He is a personal account manager and helps people with everything from their daily banking needs to their investments and retirement plans.
Tasha DiLoreto– After graduating with a MA in Public History from the University of Western Ontario, Tasha is now a London Public Library as a library assistant. She also volunteers with the Sunshine Foundation as a "digital archivist.
Bill Dixon-- Since Bill graduated from King's he has worked in a couple different fields, including as a peer tutor with the learning disabled in the Toronto District School Board, and at the oldest yacht club in Canada running the youth programs. He still has a passion for education and am looking at going back to school for a degree in Social Work.
Robyn Gilliam-- Currently, Robyn is enrolled at Althouse College working toward her junior/intermediate qualifications. She will soon be applying for teaching jobs oversees.
Jason Hatch-- After King's, Jason went to the University of Strathclyde in Glasgow to complete his B.Ed. When he returned home, he went to the University of Windsor for his Master's degree in history and focused on the relationship between Frederick Douglass and William Lloyd Garrison, finishing the program in December 2010. Since then, Jason has moved to Toronto and has begun teaching with the Toronto District School Board.
Luke Henderson-- After graduating King's, Luke went on to do a Masters in (cultural) history, followed by a Bachelor's of Education at Western. Currently he is working as a Curriculum Specialist at an E-Learning company (ITS E-Learning) that develops course material for private businesses as well as college credit courses.
Brandon King-- Brandon King is currently a Ph.D. History student at the University of Toronto. He also serves as a Research Assistant for various projects relating to terrorism and espionage.
Maggie Kubow– Maggie is currently in her 2nd year of the PhD program at the University of Western Ontario and has recently, and very successfully, completed her comprehensive exams. Her doctoral thesis will focus on the preconditions for the Holocaust with particular attention paid to the foreign language press.
Jeff McMahon-- Jeff is the process of completing his MA in Popular Culture at Brock University. The working title of his research paper is Sweeping up the broken pieces of yesterday's life": An exploration of the life and legacy of Jimi Hendrix as a function of social memory. This project is concerned less with the life of Hendrix and more with his cultural legacy, focusing on the various ways in which those responsible for maintaining and in some cases revising his image have sought to memorialize the man, the myth and the legend of Jimi Hendrix. In September, Jeff will be continuing his graduate work by pursuing an MA in history at MacMaster University where he'll examine an aspect of North American popular culture in the 1960s.
Eric Mendes– Eric is currently teaching Grade 4 French Immersion in the Waterloo Region, and happily reports that his history courses have been of great use in his development of course assignments.
Ashley Morrison – Ashley recently graduated from the Master of Library & Information Science program at UWO, and is expecting to shortly begin a full time career in a public library. She said she found the MLIS degree "perfect for history grads, as you can also focus more on research or archives/preservation."
Matt Ogglesby -- Matt has been accepted to the MA program in history at the University of Western Ontario. His proposed project, which has received SSHRC funding is to study the history of the American government's use of private military contractors from Vietnam to the wars today.
Joel Richer -- Joel has been accepted to the MA program in history at the University of Western Ontario. His proposed project, which has received OGS funding, is to present the French perspective on the origins of American involvement in Vietnam through an edited or annotated translation of General Ely's memoirs.
Houda Zabian – Houda is currently in the Junior/Intermediate panel at Althouse. She says that she choose a teaching profession to "pass along my love for history" and believes that "this the most effective means to do so! There's too many people who do not feel that history is significant" and her "goal is to change that."
More updates to come. Please feel free to send me your own updates.