King's Players bring Grease the musical to the Palace Theatre this February
Story by Kaleigh Rodgers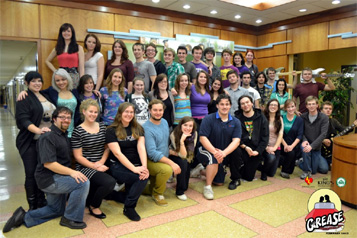 The King's Players will return to the stage this February 1st and 2nd with their third musical production since the group's inception. Under the direction of Brikena Qamili, the players will present the classic 1950's musical Grease. This year, the group will hold their musical production at the 300-seat Palace Theatre in downtown London.
Set in Chicago in 1959, Grease follows the lives of ten high school seniors as they navigate the ups and downs of adolescence. Featuring hits such as "Summer Nights" and "Grease Lightnin" the show harkens back to the era of Buddy Holly and Elvis Presley. Grease has become one of the world's most popular musicals with 8 years on Broadway and two subsequent revivals.
The King's Players are a student lead drama group that involves over 30 students each year. The group meets weekly on campus to host sketches, improv, and other drama activities. In the past year, the players have already presented The Importance of Being Ernest along with several other improv and 24 hour theatre performances.
Qamili, who is also acting in the ensemble in addition to her duties as the director, producer, and co-choreographer, brings a wealth of experience to her roles. She has been highly involved in the arts since the eighth grade with an impressive resume spanning multiple theatre productions, ten years of dance training, as well as voice and piano lessons.
While some other cast members also have experience in theatre, Qamili notes that there are many first time performers who were "diamonds waiting to be discovered". She adds that she is keen to work with any student who demonstrates passion, a strong work ethic, and a willingness to take direction. This diverse group of students is united by an unwavering love of performance; a shared passion that has led them to form lasting friendships.
"I absolutely love my cast, crew and band, they are a fantastic bunch and make all the work that we do worthwhile," reflects Qamili. "This theatre company has given me lifelong friendships and I will forever cherish the memories, inside jokes and heartfelt moments."
This will be the final time that the players' musical will be presented away from the King's Campus, as the Darrel J. King Student Life Centre is slated for opening before the next production in 2014. Qamili notes that the Kenny Theatre in the new Student Life Centre will be an asset for the King's Players.
"We have been waiting for something like the Student Life Centre to come about," says Qamili. "It will certainly make future shows easier to create, and when it becomes a lighter work load there is potential for even more shows than we usually put on."