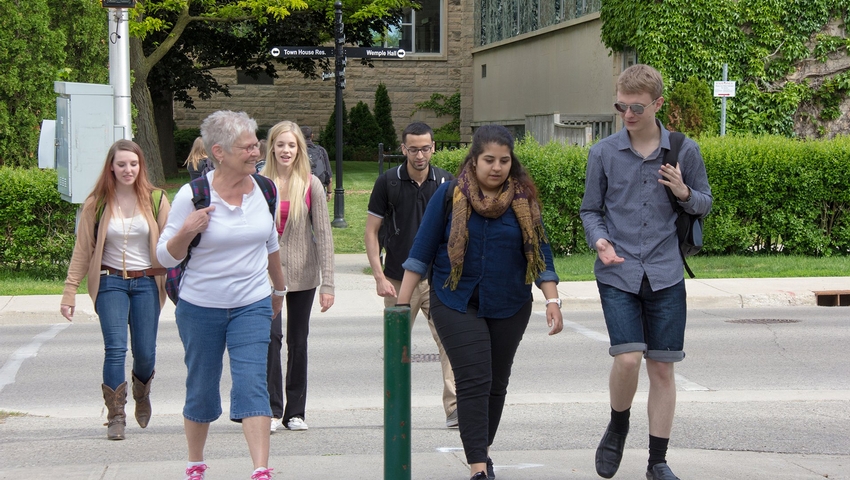 Are You a Mature Student?
At King's we support Mature Students who are qualified as:
Students who have not completed their OAC or 12U courses
Will be a minimum of 25 years of age
Have not normally been a full-time student in the education system for at least 4 years
Are You a Transfer Student?
King's University College defines a Transfer Student as:
Students enrolled at King's University College with credits from another educational institute including other universities, college, and CEGEP
General Advice and Assistance
King's recognizes the diverse educational experience of all our students and as such identifies the unique challenges for re-adjusting back to formal education. We are committed to offering various scholarships, events, networking, and support resources for all mature and transfer students on campus, as well as offering our students further services available through Western's The Student Success Centre.
It is our goal to assist all mature and transfer students in identifying, meeting, and overcoming any obstacle. Our services are geared towards a wide range of needs including:
Exam Preparation
Time Management
Essay and Research Organization
Effective Note-Taking
Learning from Textbooks
Peer Study Groups
King's Academic Peer Mentoring (KAMP)
If you have questions or would like to talk with a sympathetic and knowledgeable individual, please call the Student Support Services Office at 519-433-3491 ext 4321 or toll free 1-800-265-4406 ext 4321 or email csd@kings.uwo.ca.
What is Available at Western?
Along with our services, additional resources are available at Western's The Student Success Centre 'Mature Students' page.
Or are you looking to get involved and meet other mature students? Join the hundreds of mature students who belong to The SAGE Society ~ A Community for Mature Students!
Financial Assistance for Mature/Transfer Students
Several mature and transfer student bursary opportunities are available to provide support to students with financial need. Additional information and application forms can be found here: Finance
Volunteer Opportunities
Becoming part of the King's Academic Mentoring Program (KAMP) is an opportunity for you to immerse yourself within the King's community, as well as meet and help to mentor first-year mature and transfer students during their transition to university. Please contact kingskamp@kings.uwo.ca for more information about how your presence can continue to enrich our King's community. Additionally, for more information please see the KAMP web page.
Student Testimonial
King's has allowed me to reconnect to education in a loving, surreal way that no other place can. When I think of King's I picture diversity, accommodating, and willingness to connection with all races and ages. You can walk throughout the campus and feel that you are at home as the teachers, staff, and students embrace your goals and aspirations. No matter what your background or age is everyone makes you feel welcome and a part of the King's family.

I have been out of the school system over 30 years. When I was younger (child) our neighbourhood was a close net of families and friends that watched out for everyone. If something wrong happened in the neighbourhood, we as a community would get together to help that family or person. If there was a celebration the entire neighbourhood celebrated as a whole. Like every community you have the leaders at Kings we have Father Michael Béchard, Dr. David Sylvester, Joe Henry, and many more who go out of their way to helps. I must not forget other individuals at King's such as Maureen, Jane, and Lisa at Student Accommodations and the library staff. There are so many benefits and rewards to attending King's but the only way to really experience them is to attend King's.