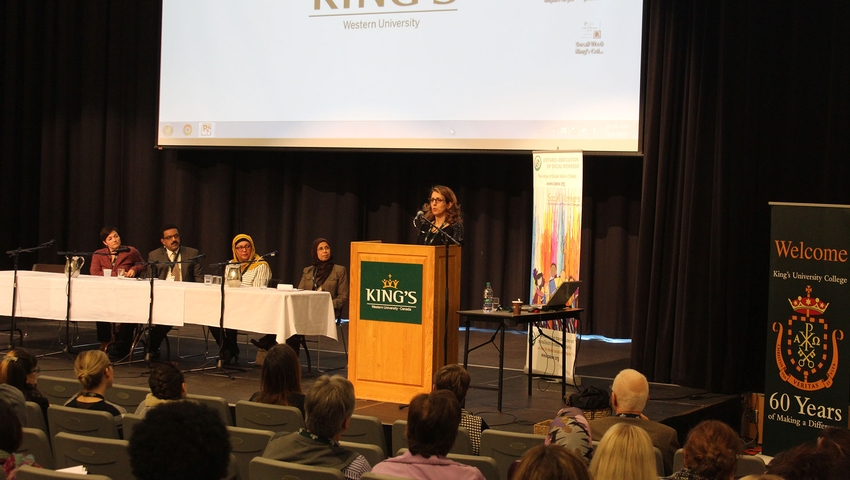 Social Work Professional Development Workshops
King's is a place where you can push conceptual boundaries, explore new territory and enhance your skills. The School of Social Work is pleased to offer a Professional Development program for our students, community partners, and allied professionals.
Our workshop series will be of interest to social workers and others interested in human service work. Everyone is welcome to come learn with us!
Workshop Registration is now OPEN!

Not able to attend our workshops in person?
Register today for access to the LIVE STREAM online.
Gender-Based Violence Across the Life Course
Friday, April 28, 2017
(9:00 am - 12:00 pm Joanne and Peter Kenny Theatre, Student Life Centre)
This presentation will examine gender-based violence at different life stages, starting with childhood and ending with individuals who are older. The consequences of violence, co-occurring violent experiences and cumulative life course violence will be discussed. Implications for practice, including innovative approaches to trauma-informed health promotion, will be presented.
Dr. Linda Baker – Learning Director
Centre for Research & Education on Violence Against Women, Western UniversityRegister Now

---
Mindfulness and Self Compassion for Social Workers and Allied Professionals
Friday, May 26, 2017
(9 am - 12 pm Joanne and Peter Kenny Theatre)
As social workers and allied professionals we are drawn to our profession through a great desire to help others and relieve suffering. While we are skilled at providing compassionate support to others, many of us are less skilled at offering compassion to ourselves. This workshop will explore the concepts of mindfulness and self compassion and how it can help prevent burnout and the effects of chronic stress in the workplace. Through experiential practices and brief guided meditations we will learn how we can develop the skills of mindfulness and self compassion as a way of being more present and relaxed in our work lives.
Rachael Frankford, Social Worker & Psychotherapist
St. Michael's HospitalRegister Now

---
Continuing Competency
Maintaining and increasing professional knowledge and skills is not simply a good idea, it is a professional responsibility cited in the Ontario College of Social Workers and Social Service Workers (OCSWSSW) Code of Ethics and Standards of Practice (2000), and the CASW Code of Ethics and Guidelines for Ethical Practice (2005). A commitment to continuing competency is demonstrated by ongoing involvement in professional education.
---
Benefits of Membership
King's School of Social Work offers Field Instructors, OASW members, and Students significant discounts on our workshops!
In addition to discounted rates on all workshops, our Field Instructors also receive "King's Social Work Dollars" that can be applied towards any of the PD Workshops offered on site. If you aren't already a Field Instructor with the School of Social Work at King's and would like to find out more about this opportunity, please contact M.K. Arundel, Coordinator of Field Education, at: 519-433-3491 x4518 or marykay.arundel@kings.uwo.ca.
---
The Social Workers and Social Service Workers Professional Development Fund
The Social Workers and Social Service Workers Professional Development Fund (The Fund) provides funding for educational opportunities to social workers and social service workers who are registered and in good standing with the Ontario College of Social Workers and Social Service Workers (The College). The Fund reimburses eligible costs for professional development (PD) activities that advance the skills, knowledge, practice and service delivery of social workers and social service workers in Ontario.
For more information about the program and to apply, visit the Ontario Association of Social Workers website: http://www.oasw.org.