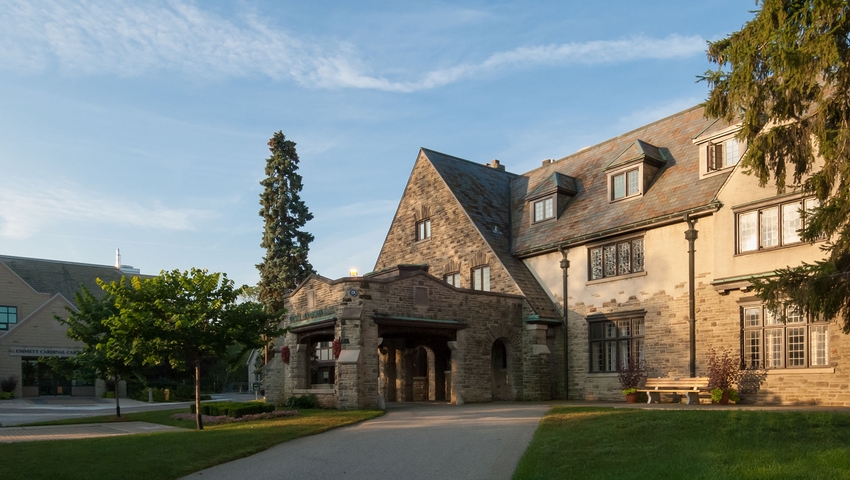 The Economics, Business, and Mathematics department is the largest at King's, and its growing popularity is due to the unique and collaborative structure adopted by the department. As compared to other schools, our program provides a social science based, multidisciplinary approach to the study of management principles and economic policy.
Our students are broadly trained on the fundamentals of the discipline prior to specializing in one or more areas of their choosing, whether that be accounting, financial economics, global commerce, or many of the other programs we offer. Capstone courses, internships, and study-abroad opportunities enable students to integrate individual course content into more applied projects, helping them understand how each element fits into the bigger picture. Class sizes are small and interactive, and the close-knit community at King's enables faculty and students to establish strong and long-lasting mentorship-style relationships. It is our goal in the department to help every student achieve their maximum potential, both in the workplace and in life. By coming to King's, students are joining an academic community of individuals who strive to make a difference not only in their chosen professions, but also in the communities in which they work and live. We encourage you to find out more about the diverse program options and courses that we offer, and invite you to join us…it's time to get connected!
The program is divided into three four-year degree options:
Honours Specialization: An Honours Specialization degree is an academically rigorous program, with higher expectations around the difficulty of required courses and the average grades maintained by students than the Specialization degree. In this option, students focus on one primary area of study, and this is a good choice for students wishing to apply to graduate schools.
Honours Double Major: An Honours Double Major option is an academically rigorous program, which enables students to get an honours degree while diversifying their experience. This would be helpful for people looking to get the "best of both worlds" in terms of concrete business and economics training and also the opportunity to study in an unrelated area such as psychology, history, and so forth. The double major may appeal to individuals who are passionate about one area of study but concerned that it might limit their job prospects, and so by diversifying into a double major they can arguably increase the marketability of their skill set. This degree option is also a good choice for students wishing to apply to graduate schools.
Specialization: A Specialization degree is a good choice for individuals who are interested in getting a university degree and the necessary training to be successful in the workforce but are not interested or able to meet the rigorous academic standards and course requirements of an honours degree. This degree is also focused on one primary area of study.
Please note: there are different specific requirements for the three degree options across individual programs, please consult the academic calendar for more information.
Within these degree options, students have the choice of selecting a specific program from:
Why Study Economics?
Economics provides an important part of the foundation of a well-rounded liberal arts education and it is essential to a business education. Even at the introductory level, courses in Economics can provide a logical and consistent framework for understanding how economic forces affect society so that students can critically examine policy proposals to reveal the often unexpected and sometimes unintended consequences that were never part of the stated intentions of policy makers.
Because of the growing recognition of the importance of economic forces in social life, basic knowledge of Economics is becoming viewed as critical preparation for programs of advanced study in the social sciences and humanities. As economic institutions and economic forces are important in determining change in larger social systems, an understanding of Economics is useful in fields as diverse as History, Political Science, Sociology, Geography, and Anthropology.
Degree Options
Honors Specialization
Major
Minor
Typical Courses
Microeconomics and Macroeconomics (Introductory and Advanced)
Calculus, Linear and Matrix Algebra
Econometrics
Research Methods
Canadian Economic Policy
Careers Options
Government – Ministry of Finance, private consulting
Chartered accounting, tax specialist
Financial services, mutual fund manager
Industry analyst, forecasting
Law School or MBA programs
Studying Economics at King's is one of my best decisions in life. Economics has lead me to sharper, more critical thinking, a deeper understanding of the way things work, and an incredible university experience.
Trevor Medeiros,
4th Year in Honors Specialization in Economics. President of Econ Club at King's
My time at King's prepared me for law school, and for my career, as solving legal problems requires working with a team, communicating effectively, and thinking creatively. No matter where my future takes me, I know the foundation I built at King's will allow me to succeed.
Meaghan Parry,
BA Hons. '10 (Economics and Social Justice and Peace Studies)
Why study Finance?
The Major in Finance program allows strong students with an interest in a career in the Financial Industry. This program has proven attractive for students who are interested in pursuing a double major towards an honors degree. While designed to be combined with a major in another liberal arts or social science, it can be combined with a Major in Economics or a Major in MOS. It is also a popular choice for students who wish to have more options in a non-honors degree. This program is a signature offering at King's as it combines Economics, Business and Mathematics. This is unique at Western and provides students with a focused interdisciplinary program that is aimed at providing an education relevant to a growing industry.
Degree Options
Typical Courses
Microeconomics and Macroeconomics
Investment and Financial Markets
Derivative Securities Markets
International Finance
Career Options
Financial analyst
Investment, retail, and commercial banking
General management
Corporate finance
Why study Finance and Administration
This program focuses on financial, economic and administrative theory with a social context. Courses include traditional business studies as well as a strong foundation in the social sciences. Finance & Administration can be combined with a Diploma in Accounting which is designed to enable students to complete the 51 credit hour requirement for the Chartered Accountancy practice and examinations.
Degree Options
Honors Specialization
Specialization
Major
Typical Courses
Introduction to Business
Microeconomics and Macroeconomics
Finance
Corporate Finance
Corporate Governance.
Career Options
Financial analyst
Investment, retail, and commercial banking
General management
Accounting
Corporate finance
Why study Financial Economics?
The Specialization in Financial Economics program allows students, who are interested
in Economics but not interested in preparing for graduate education, to learn economics
while preparing for a career in the financial industry. This is our newest module and was
introduced because there were many students who wanted a four year degree, but were
struggling with the technical demands of the Economics Major or the Finance Major. This program is interdisciplinary in approach, with a variety of courses taken from Mathematics, Economics, and Business. This program provides a solid foundation in Economics and Finance for students not proceeding to graduate studies.
Degree Options
Typical Courses
Math for Financial Analysis
Accounting and Business Analysis (BUS
Econometrics
Microeconomics and Macroeconomics
Economics of Money
Typical Careers
Financial advisor
Retail or commercial banking
Corporate finance
General management
Why study Global Commerce?
Globalization is the pervasive force in the world today and an understanding of how to manage global business is fundamental to business success. If graduates do not understand how the global economy works and how to manage a firm within it, they are at a significant skill disadvantage.
The King's Honours Global Commerce degree is the best preparation for the global business environment because it provides students with the skills and perspective to lead global businesses.
Degree Options
Honors Specialization
Specialization
Major
Typical Courses
Microeconomic and Macroeconomic Policy
Accounting & Business Analysis
International Trade and International Finance
Strategic Management for Management and Organizational Studies
Corporate Governance
International Enterprise
Careers Options
International consulting
International analyst (with focus on marketing, operations, finance, other)
General management
Master's programs (MSc. in International Business and MBA)
Entrepreneur
Holding yourself accountable to a higher academic standard is something that translates well into the business world. As such, attending King's was one of the main reasons I was able to succeed so quickly as an entrepreneur. Learning to read financial statements, applying logic and decision making, and building a framework of ethics have all been success factors that I have developed from my time at King's.
Corey Dubeau,
BA '11. Partner and Co-founder, ATMOS Marketing
In a global world, any simple business is a global one. Our Management and Organization Studies programs offer a wide variety of courses that provide students a global view of the organizational world.
Dr.Sergio Janczak,
MOS Co-ordinator
Why study OHR?
This program focuses on the functioning of organizations and their most important resources: their employees. Courses examine how companies operate as well as the importance of human resource management and how it relates to the effectiveness within an organization. Students in this program graduate from a program that allows them to join a firm and engage in a human resource management capacity, hitting the ground running.
Degree Options
Honors Specialization
Specialization
Major
Typical Courses
Organizational Behaviour
Human Relations in the Organization
Social Psychology
Cultural Commercial Relations
Management and Organizational Theory
Typical Careers
Human resources generalist or specialist
Training and development
Labour relations
General management
Please note: not all programs are offered with all degree options. Select one of the program options to find out which degrees are offered.